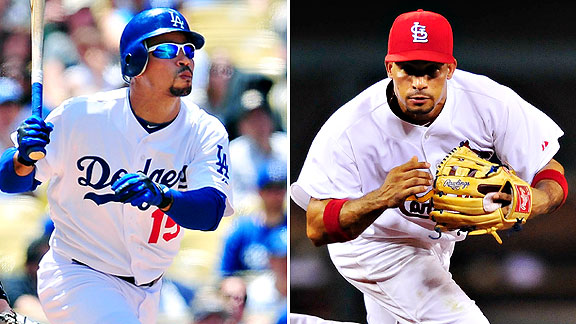 US Presswire
Rafael Furcal
The setup: Furcal entered his sixth season in Los Angeles with no one quite sure what he'd produce. In 2008, he had a .439 on-base percentage and .573 slugging percentage but only managed to play in 36 games. In 2009, you could flip that: he appeared in 150 contests, but his numbers declined to .335 and .375. The 2010 season split the difference: 97 games, .366/.460, including a hot streak that propelled him into the All-Star Game. With free agency likely beckoning and Dee Gordon waiting in the wings, the only thing that seemed relatively certain was that 2011 would be Furcal's last in Los Angeles.
The closeup: As inevitable as injuries might seem with Furcal, his first of 2011 just didn't seem fair. In his seventh game of the year, Furcal broke his thumb sliding into third base. He didn't return to action until May 22, and may have rushed himself at that. Through May 27, he had come to the plate 50 times and made 42 outs. He then reached base seven times in his next 14 plate appearances, only for a new injury to sideline him for another month. Again, he struggled upon his return. On July 22, in the midst of a season that was paying him $12 million, Furcal went 0 for 4 in a loss to Washington that dropped the Dodgers' record to 43-56 and lowered his season on-base percentage to .220 and slugging percentage to .200. The notion that Furcal would be boosting his team into the National League Championship Series could hardly have been more absurd.
Over the next six games, Furcal went 8 for 22 with three walks and three doubles, enough to convince the St. Louis Cardinals it was worth taking a chance on him. On July 31, they traded minor-league outfielder Alex Castellanos (who finished his Double-A season with a .958 OPS, 1.009 in Chattanooga) for Furcal, who could look back on his Dodger career, injuries and all, as the team's best all-around shortstop since at least Maury Wills.
All-time Dodger shortstop OPS+ leaders (via Baseball-Reference.com)



Rk          Player OPS+   PA From   To   Age  OBP  SLG  OPS

1       Lonny Frey  108 1901 1933 1936 22-25 .361 .403 .764

2     Glenn Wright  103 1570 1929 1933 28-32 .324 .463 .787

3      Bill Dahlen  102 1712 1901 1911 31-41 .337 .350 .687

4    Rafael Furcal  100 2802 2006 2011 28-33 .351 .406 .757

5    Pee Wee Reese   98 9470 1940 1958 21-39 .366 .377 .743

6    Jose Offerman   87 2297 1990 1995 21-26 .344 .325 .669

7      Maury Wills   87 6744 1959 1972 26-39 .331 .332 .663

8       Greg Gagne   83 1040 1996 1997 34-35 .315 .359 .673

9     Bill Russell   82 8020 1969 1986 20-37 .310 .338 .648

10      Phil Lewis   80 1940 1905 1908 21-24 .281 .282 .563


But there was little time for Furcal to reflect on the past.
Furcal reached base twice in his first start with St. Louis, and homered and drove in four runs in his third. The Cardinals fell out of the NL Central race, but made a surprising run to the playoffs by stealing the wild card from Atlanta. It wasn't all good from Furcal – though he hit seven homers in 50 games, his on-base percentage was only .316, and his ninth-inning error September 22 opened the door for a six-run ninth inning by the Mets that nearly crushed the Cards' playoff hopes. Furcal also wasn't healthy enough to play in the team's final two games of the regular season. But he played every inning of the NL Division Series against Philadelphia, culminating in Friday's Game 5, in which his leadoff triple against potential Cy Young-winner Roy Halladay led to the game's only run and his sparkling defensive play in the eighth inning helped preserve the lead. Derrick Goold of the St. Louis Post-Dispatch captured the moment and what Furcal has meant to the Cardinals in this postgame feature.
Coming attractions: After the pursuit of his first World Series ends, Furcal's offseason adventure begins. St. Louis inherited a $12 million option for 2012 on Furcal, who turns 34 on October 24, and though there seems to be some mutual interest, more likely his next contract comes via the free-agent market.