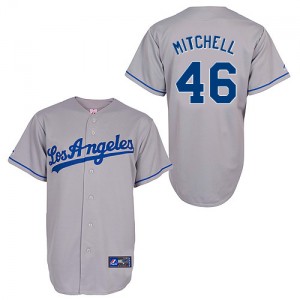 Monday was a day of past Dodger infielders making news, and present Dodger infielders become past ones.
Russell Mitchell was designated for assignment to make room on the Dodgers' 40-man roster for Todd Coffey. He could return to the organization if he clears waivers. (Remembering 2011: Russell Mitchell)
Blake DeWitt, once upon a time known as "The Solution," was designated for assignment by the Cubs, who acquired him in the Ted Lilly trade a couple years back. DeWitt, 26, had a 95 OPS+ (.305 on-base percentage, .413 slugging) with Chicago in 2011, compared with Adam Kennedy's 79 OPS+ for Seattle – but don't expect the Dodgers to give someone up to acquire DeWitt, who more likely would end up back in the minors for the Cubs.
Alex Cora is still at it, signing a minor-league deal with St. Louis.
Edwin Jackson reportedly turned down a three-year, $30 million deal with Pittsburgh to sign with Washington for one year and $11 million, banking on doing better in next season's free-agent market (or just determined to set a record for organizations in a career).
Dodgers assistant general manager of amateur and international scouting Logan White talked about some of his prize picks – Zach Lee, Clayton Kershaw, Allen Webster, Nathan Eovaldi and Chris Reed – with David Laurila for Fangraphs.
Up-and-coming reliever Shawn Tolleson was profiled by Ken Gurnick of MLB.com.
The late Jose Lima is the subject of a recent SABR biography by Rory Costello.
Eric Stephen of True Blue L.A. is taking a day-by-day look at the Dodgers' divisional rivals, starting with Arizona on Monday and continuing with San Francisco today.
Monday in Jon SooHoo: Blake Griffin and Matt Kemp.
Mark Prior is trying one more time to salvage his pitching career, writes Nick Cafardo of the Boston Globe (via Drew Silva of Hardball Talk). Prior last pitched in the majors in 2006 and won only two games after his 25th birthday.
Also aspiring to come back: Brandon Webb, out since Opening Day 2009.
Tim Lincecum talks about Clayton Kershaw, among other topics, in this video passed along by Roberto Baly of Vin Scully Is My Homeboy.
Here's a simple dice baseball game designed for kids ages 3-6, via Baseball Think Factory.
One last baseball-oriented remark about "Smash" that I tweeted: "Hilty is the proven veteran talent. McPhee is green but higher-ceiling. It's Juan Rivera vs. Jerry Sands. Harang vs. Eovaldi."  Except this wasn't quite right. It's more like A.J. Ellis vs. Tim Federowicz.
Ten years ago, while on detail for MLB.com in Venezuela, former Dodger communications vice president Josh Rawitch wrote about an up-and-coming Rivera.
In this terrific podcast interview, ESPNLosAngeles.com's Kamenetzky brothers talk to Oscar-nominated actor Gary Oldman about, among many other things in a 45-minute chat, his great admiration and love for baseball.
This seemed to fascinate some folks on Twitter late Monday: Take a look at these NPR contributor bios, and see if their pictures match with your images of them.