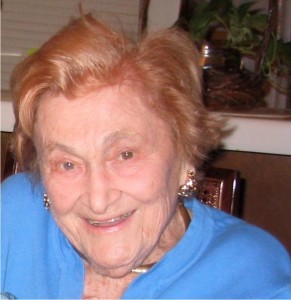 My grandmother, Sue Weisman, whom some of you have gotten to know here over the years, has passed away. She was 101.
Grandma Sue's 102nd birthday would have been a week from Saturday, and as frail as she became in the past year or so, you never quite believed she wouldn't roll right into through that milestone and many more. She was indomitable. I'm not sure I've ever known a woman who was more self-possessed.
She was born in New York into a childhood, the sixth of eight siblings, that eventually found her family in the thick of the Prohibition-defying liquor trade.
She moved to Chicago, married at age 20, into a world where the shadow of Capone hovered over her young household's livelihood. She, her husband Aaron and my father, aunt and uncle moved to Los Angeles in 1951, first renting a house from the Mankiewicz family that was the home of the actual Rosebud from Citizen Kane. And in this city she stayed, becoming a founding volunteer for the Los Angeles County Museum of Art, to whom she provided services for approximately half a century, indulging her limitless love of art.
She played catch with me in our backyard in her 60s, and encouraged me in every way.
She cherished her family. And we all thought the world of her.