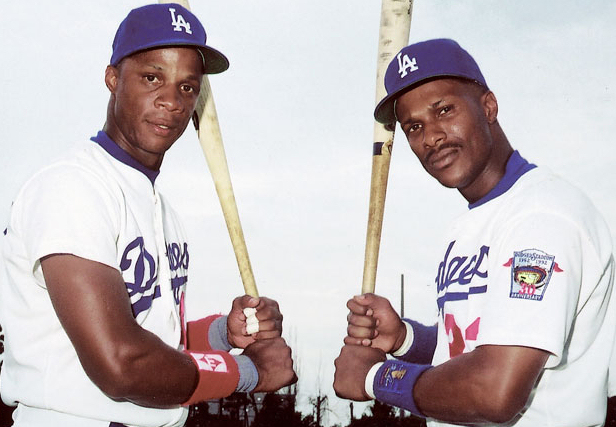 Shawn Coyne is a part-time filmmaker and full-time baseball fan that served as head researcher, interviewer, 2nd assistant director and mastermind along with his brother, director Bryan Coyne on the upcoming documentary Harvard Park, about the South Central Los Angeles park that was the sports birthplace of major leaguers including Eric Davis and Darryl Strawberry. It premieres Sunday (Jackie Robinson Day) on BET at 11 a.m.
Shawn Coyne is also a longtime reader of Dodger Thoughts, and I was happy to turn some space over to him to discuss the project. Enjoy …
So, last year right around this time last year my brother Bryan and I embarked on a journey putting together this little documentary called "Harvard Park," which premieres Sunday, April 15th, fittingly on Jackie Robinson Day. Ostensibly it was to be the Eric Davis & Darryl Strawberry story, which I believe I can speak for myself and most Dodger fans, sounds as appealing as hearing a detailed recounting of the Delino for Pedro trade.

1992 was a terrible year for us for many reasons, namely due to the crushing disappointment that was the result of  expectations set by the excitement of bringing two boyhood friends, both true superstars from South Central LA, back home.

Remember, there was a time where Eric Davis was the next Willie Mays, a man with one 20/80 season and one 30/50 season under his belt. Yeah, sure he got hurt a lot…but oh, the potential!

Darryl Strawberry was coming off a decent first season with the Dodgers, still holding the title as the premier slugger in the National League. Yeah sure, news of his drug problems were starting to surface…but oh, the promise!

The result? They played a combined 109 games leading to 99 losses, the worst regular season win/loss record in Los Angeles Dodgers history. Davis was traded the next year, and Strawberry's life fell into a drug induced hell.

So yeah, I'm totally selling you on this movie, right?

That's the thing though. When you set out to make a documentary, you start with a basic idea. Then crumple it up, throw it in the wastebasket and set it on fire. New information emerges, new plot lines evolve, and next thing you know you're on a ride and you have no idea where it's going until you finally get done cutting the film.

In this case, there was "The Program."

"The Program" was essentially Eric & Darryl's preseason training plan. Before Spring Training, they got together to get their timing back, work the kinks out of their swing, do all the things big league baseball players do to get back in playing shape. Unless you're like, Pablo Sandoval or something. But I digress…

The difference for Eric and Darryl is that from the very day their professional careers started, they came back to the field they played their Little League games at: the Jackie Tatum/Harvard Recreation Center in South Central Los Angeles…Harvard Park. What grew from there, and what we document for much of our film, was the evolution of "The Program," a preseason workout tradition that had Eric & Darryl bringing teammates, promising young African American prospects and all the young local baseball talent together to learn how the superstars did things.

The thing about Harvard Park – and The Program that Eric and Darryl ran there each year – was just how little publicized it was. In my research for the film, I was only able to dig up two sources of archive footage and a single small back page article in the Los Angeles Times. Even those that participated didn't have much to give, a photo here or there, but mostly just their anecdotes. And there were many, many anecdotes…

This to me was interesting on two fronts. One, that these men viewed this as sort of a fraternity, a "first lesson of Fight Club is you don't TALK about Fight Club" type of thing. These players viewed The Program as a hallowed ground…a place of business, a place where no distractions were allowed and a place of true brotherly camaraderie. There was no time for photo ops, reporters pestering with questions, cameras in their face. The stars already had enough of that, this was THEIR time.

Secondly, that in the 80's and early 90's, the issue of inner city kids not playing the game was not so pronounced, or even considered an issue at all. The game was still thriving amongst the black community, as stars like Eric & Darryl, Andre Dawson, Ozzie Smith, Eddie Murray, Kirby Puckett, Tim Raines, etc. were all at the forefront of the game, with a burgeoning new crop coming up in the likes of Barry Larkin, Frank Thomas and Royce Clayton, all of which came through The Program (and are interviewed in our film). For some perspective, in 1990, the total percentage of African American Major Leaguers sat at 17 percent. Now, it hovers around 8 and a half percent…which I'm sure you're all reminded of on April 15th of every year.

Think for instance, if something like this were to occur today. A couple superstar players go back to the inner city park where they played Little League baseball to train in the off season, gathering all of the teammates they could find to help, and spent that time not only honing their skills, but the skills of the youth in that neighborhood, developing a whole new crop of future Major Leaguers. That would be huge right? That would be all over ESPN – Baseball Tonight, Sportcenter, Between The Lines – it would be massively exploited extensively covered by MLB. It would be a phenomenon. The problem here is three fold.

The reason The Program was allowed to exist was due to its under the radar nature. As soon as the cameras showed up, the publicity machine started to pimp it, the inspirational news pieces started to shed light on it, it would have collapsed on itself. The Park, a small recreation center that defined the "central" in South Central L.A., would be swarmed with reporters, fans, onlookers and the like. This would essentially turn The Program into the exact opposite of what it was meant to be.
It would seem to me that this would be a fantastic opportunity for MLB to solve a problem…which MLB isn't particularly good at. If anything, they'd attempt to usurp this "Program" into RBI (Reviving Baseball in the Inner Cities) and thus choke the life out of it. Part of what made The Program what it was was the freedom. Freedom to show up at the park and do your thing without anyone who thinks they know better messing with you. I mean, don't get me wrong, they had a pretty strict system going on there, but it was THEIR system, not some money generating program meant to feed the corporate beast.
And most importantly, where are those superstars? Speaking as a Dodger fan, we are blessed to have a strong black presence on our team – Matt Kemp, Dee Gordon, James Loney, Tony Gwynn Jr., and Jerry Hairston – but let's look at where these players are from. Gordon, Gwynn and Hairston all come from baseball lineage, born with a baseball in their blood. Matt Kemp grew up in Midwest City, Oklahoma, an Air Force town that would hardly fall under the same definition of "inner city" that South Central Los Angeles does. Loney grew up in the baseball hotbed of Houston, Texas. Now this by no means is meant to imply that these men grew up with a silver spoon in their mouths, but it does serve to indicate that in the "inner city" (defined as South Central L.A. specifically for this piece) baseball has become far more scarce.

What point #3 is meant to get at is that, say a couple black superstars attempted to re-create what The Program did. It wouldn't get very far, first because of the aforementioned media fiasco it would create, second because it would piss off more than a few people in their respective front offices that their multi-million dollar superstars are taking the risk of training less than ideal conditions (a point that Barry Larkin touched on briefly in our interview with him), and lastly, what I feel most important, would be acceptance.

These communities are fiercely territorial and and carry a deep attachment to their community engendered by the struggles they face living there. I saw this first hand at the Park on many occasions. While filming, the crew were approached by residents of the surrounding neighborhood not just with suspicious eyes, but openly contentious requests inquiring why exactly we were in their neighborhood, and just what we thought we were filming. It usually took Darryl or Eric to diffuse these situations.

Now, of course, we were a mostly white film crew hanging out in one of the most densely African American populated sections of Los Angeles. To me though, it wasn't even race that seemed to be the problem…it was the residents wanting to know where everyone was from, and what did we want from them. Darryl and Eric grew up there. Everyone knew them, respected them, and loved them.

If, say a Matt Kemp or a CC Sabathia were to show up, the first thing the residents of the neighborhood would see wouldn't be their skin color. Sure, they might recognize them as baseball stars, but their first thought would be that they weren't FROM South Central. They would be suspicious of 1.) why they were there, and 2.) what the hell they wanted. That is why many of today's superstars would have a hard time trying to recreate The Program, and why it was such a rare and important phenomenon.

If there was ever a moment that I truly felt the significance of The Program, it was the last day of shooting, where we put together a "Reunion Picnic" for the former members of The Program to come together and reminisce. The guys that showed up that day weren't the high profile players like Frank Thomas, Barry Larkin, Lenny Harris, etc. (who I don't blame at all for their absence, as the reunion was held in April, and the higher profile you are, the busier you get the opening month of the season…I'm sure you can tell when you see Larkin on Baseball Tonight every night), but the players who didn't quite make it to the big time…the ones that maybe got a cup of coffee, or even a couple decent years with the big club. These were the guys that touched me most, because as I interviewed every one of them at the picnic, I got this overwhelming feeling of just how important The Program was in each of their lives. Every single person had a story about how Eric & Darryl helped change their lives, some in a baseball sense, some in a very real personal sense. The joy and camaraderie of that day was palpable…and I hope it translates as well to film as it did for me in person.

Of course the rest of the film does remain the story of Eric & Darryl, their friendship, as well as their trials & tribulations. A lot of these things are an old hat for baseball fans that grew up during that era, but there are some truly interesting revelations from both men. Their respective career trajectories are quite eerie in their similarities: picked in the same draft, careers started and ended one year apart respectively, both of their primes pretty much overlapped as well as their respective declines, and most eerily, both men were stricken with colon cancer within a year of each other.

At the same time, what struck me was just how different both men were, and still are. I'll let you see rather than me tell, but there is a distinct gap between both men, one that is subtle and most likely informed by the very different paths both of their careers followed to end up at the same common judgment of "disappointment."

Some additional behind the scenes thoughts and miscellani:

One regret I have regarding the film was the rather lacking treatment of Chris Brown (no, not THAT one.) Brown, to all baseball fans that grew up around the same time I did, was the player notorious for missing games with dubious injuries such as a bruised tooth or "sleeping on his eye wrong." This infamy overshadowed the fact that he finished 4th in the ROY voting in 1985, and was an All Star in 1986. According to everyone we talked to, he had all the talent that Darryl and Eric had, if not the same drive to succeed that they did. The fact is, we just weren't given enough access to his life to put together a meaningful segment short of a couple bookend pieces and a touching tribute at the Park towards the end of the film. When talking about Chris, everyone was fairly tight lipped, usually giving a blushing response, predicated by a "Oh, Chris Brown…wow." This coupled with his rather mysterious death in 2006 (read more HERE) and his family and friends discomfort with elaborating on it made it challenging to give him the proper time he deserved. Let it be known that he was just as important to the start of The Program if not more so than Eric & Darryl, because he predated them by a year. I do know that his peers loved the hell out of him, and he is quite missed.

Frank Thomas, The Big Hurt, and my personal favorite player of all time, was in fact a member of the Program. Now, this makes little sense, as at the time he was just a budding White Sox prospect, and a true Georgia boy through and through. What the heck was he doing in South Central LA? Well, our esteemed Assistant GM of Player Development, DeJon Watson, happened to be one of the young bucks at The Program, a minor leaguer for the Kansas City Royals at that time. He told Frank about The Program and they flew The Hurt out to LA. Frank crashed on DeJon's floor while out there, and became an instant smash at the Park (literally) because he was the only guy that could hit the ball farther than Strawberry. If you are eagle-eyed, you can spot a young DeJon getting batting tips from Darryl in some archived shots, high-top fade, whispy mustache and all. Frank's high-top fade was pretty impressive itself.

Dodger great "Sweet" Lou Johnson gave us a fantastic interview at Spring Training, and is someone that if you've never had a chance to speak to, take the time while we are still blessed enough to have him. You only get a couple of bites from him in the film (great ones I might add) but when you get the man going he has so much to say. A lot of it indecipherable, but when he gets to the point, he nails it. Just a wonderful man, and I hope we get a chance to show you more of that interview in the future. Also for the record, he showed up to the Harvard Park reunion, and everywhere he wandered that day a sense of joy and excitement followed. I can see why he's so fondly remembered amongst the Dodger faithful now.

We actually had a couple subplots going for a two young inner city Los Angeles hopefuls, one of which was none other than Trayvon Robinson, the intriguing prospect that struck out too much and ended up getting traded by Ned for a future backup catcher with a cool nickname.  The hope with Trayvon was to parallel his rise with that of Eric and Darryl's, seeing as he was a Crenshaw High kid, and one of the few remaining South Central baseball prospects out there. We had to drop his material for various reasons, chief being that we just didn't get enough time with him. We caught him at spring training, and we were given 10 minutes with him before his minor league squad game against the Brewers, and we just couldn't find a way to get him in. Good kid, and I wish the best for him in Seattle. (As an aside, Jerry Sands hit a MONSTER bomb to LF in that game. Now if only we can get him to do that HERE.)

The other young player we followed was a kid named Desmond Henry, a prospect everyone in South Central was buzzing about from Centennial High. Of course, in reality he was considered the 30th best high school prospect in a weak Southern California class, but he was a fantastic example of a young man coming out of South Central with nothing but hopes and dreams of the big leagues. We followed him and his family for about a week, hoping for a sort of Hoop Dreams situation, but it just didn't pan out. As it turns out, soon after the film wrapped, Desmond was drafted in the 4th Round by the Texas Rangers.

There are a lot of unsung heroes in this film that get far less time than they should. Gerald Pickens is the coach of Centennial High and has been coaching baseball in the community as far back as the 70's. Every kid that came out of South Central LA and made to the big leagues owes some of their success to him, as he has given his whole life to keeping baseball alive in the community. We had multiple tremendous (and funny) interviews in the can with him that we just couldn't use. Hopefully someday we can show them to you. For more on Gerald, check this link out.

Speaking of unsung heroes, one of our favorite interviews was the legendary scout, Phil Pote, a mainstay not just in the scouting community, but a long time coach of many High School and Community College squads in the L.A. Area. Phil was responsible for discovering Darryl Strawberry, and his insights on the game and positively delightful personality made for a memorable interview. We only got to use a couple bites of Phil in the movie, but he had quite a lot to say about Darryl, the state of baseball today, and the state of baseball in the inner cities. Here's a good piece to get you acquainted with him from the L.A. Times. (Yes, it's Plaschke. You were warned.)

And that leads to one final point…three of the men interviewed in this film also had roles in last year's "Moneyball." We spoke to Royce Clayton, former All Star Shortstop for about 600 teams in his career (somehow avoiding the Dodgers), who inexplicably played Miguel Tejada. We also interviewed Kenny Medlock, longtime scout, coach and actor who was a mainstay at Harvard Park as a BP pitcher and mentor (he also provides one of the best sound bites in "Harvard Park"). Kenny played the arbitrary mustache twirling "villain," scout Grady Fuson. Then finally, the aforementioned Phil Pote played the old scout in the War Room that uttered the awesome line "Who's Fabio?" A line which, at the premier screening on Thursday night, a member of the audience yelled out upon Phil's first appearance in the film.

Anyways, there's so much more I can get into, but I'll just leave it at this and hope it's enough to urge you to check out our film, and use this as a nice little primer to accompany it. It was an unforgettable experience making it and I hope that in some way it adds to the conversations that we have every year on Jackie Robinson Day.

Check it out on 11am PT/ET this Sunday, April 15th on BET.

(Or Tivo it. Or check it out on Netflix on April 16th. Or heck, buy it on Itunes on the 16th for the low, low price of $1.99!)

Oh, and a big thanks to Jon Weisman for the chance to write a post for DT. As I told him, I've been reading since Baseball Toaster, and he's a writer that has been a vital part of my Dodger fan experience for going on what, 8 years now? So yeah, this is a bit of a special experience for me to say the least. Thanks again all!
If you would like to contact Shawn, you can email him at coyne.shawn@yahoo.com or reach him on Facebook at http://www.facebook.com/shawn.coyne.