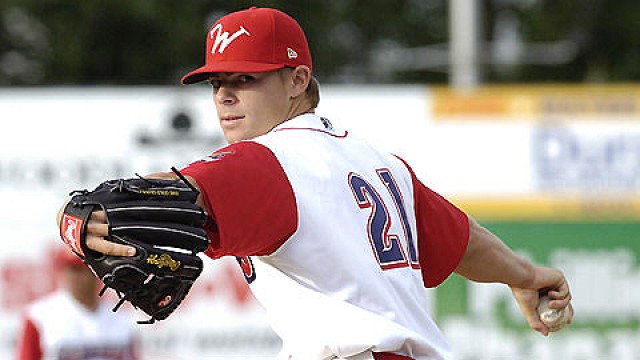 Eric Pettis played high school ball at El Camino Real and was drafted out of UC Irvine in the 35th round of the 2010 MLB amateur draft by the Phillies.
Despite being picked relatively low, Pettis nearly threw a no-hitter in his third professional start, put up a 1.37 ERA in his first pro season and 2.84 in his second. In his minor-league career, he averaged 8.5 strikeouts per nine innings with a WHIP of 0.972.
What happened next? Well, let Pettis, now 23, tell you himself in this guest post for Dodger Thoughts.
Play ball.

A phrase so universal, so recognizable that the two words seem bound together for eternity. A phrase that baseball romantics have used time and time again as the catalyst for their swooning.

But for me, play ball has changed it's meaning. It was once a call to action, a signal that my day has begun. Now it's the opposite: forced to transition from active participant to passive observer in the blink of an eye.

Just last month I was like any other minor league baseball player, happy Spring Training was winding down and excited for a new season. Team assignments were just around the corner and I was anxious to see where I'd be starting the year. Would I get that promotion to Double-A or would I be sent back into the endless heat of the Florida State League? Everything seemed normal.

Then, on the fateful morning of March 28th, all my speculations became irrelevant. As I walked into the complex I was stopped by the reaper waiting at the door: sent to the front office to meet my fate. One moment firmly on the path to realizing my dream, the next derailed. Released. Sent home with no warning, no way to see it coming. They told me I was merely another casualty of the numbers game: nothing I had done, nothing I could have done. There just wasn't a spot for me. I was in utter shock.

In the aftermath of my sudden change of scenery, I wasn't quite sure how I should approach baseball anymore. I mean, I had been completely entrenched in the game my entire life. From the time I was 4 years old, I had been strapping on my spikes — plastic back then — and running out between the white lines. Nearly twenty years of commitment, dedication, and passion. I couldn't just abandon it all together. Despite my anger, despite my frustration with the game that I had grown up loving, I couldn't just forget it completely. And that's when the smooth, unchanging voice of one Vincent Edward Scully came calling.

Growing up in the Los Angeles suburb of West Hills, I have been a Dodger fan my entire life — with a year or two hiatus after the Mike Piazza trade. Some of my fondest memories as a kid were taking the short, 30-minute drive to Chavez Ravine. You could find me right along side the other faithfuls screaming "Raaauuuuuull" when Mondesi showed off his laser arm, trying to think of the wittiest pun when Nomo threw his "No-No", and sharing in the gluttony of the All-You-Can-Eat Pavilion. My blood was as blue as they come.

But over the course of my years in the minors, I felt like I lost touch. I couldn't follow my beloved Bums like I used to. If I wasn't playing a game at the same time, I couldn't muster the energy to stay up to watch from my east coast locale. My dedication to the game had taken me away from one of the reasons why I grew so close to it.

I don't have that problem anymore. As I sit on the couch, back in the familiar confines of the Los Angeles area, I'm able to rekindle my love for the Dodgers. The games serve as both an escape and a reminder of my reality. A way for me to let go and a way for me to hold on. The inner struggle that goes on as I watch is more than worth it to me. Because even if the view from the camera perched just left of center field reminds me of the view from beneath my cap, it's a reminder of all the good that baseball has given me. Down the road, after my pain and confusion fades, I know my love for the game will still be there. I know the Dodgers will still be there. And I know I will never stop watching.
Pettis has authored the book, Just A Minor Perspective: Through The Eyes of a Minor League Rookie. His blog can be found here, and he is on Twitter at @eric_pettis.