Good on the boys in blue this weekend. They're amazing, I tell you what. A.J. Ellis, Jerry Hairston, Chris Capuano … I see Butch and Sundance of the Houston Astros looking down the canyon and asking, "Who are those guys?"
* * *
There's this relatively new pizzeria in Westwood, 800 Degrees, that I just find fascinating. Its calling card, essentially, is that it replicates the experience of waiting in the worst Dodger Stadium food line you've ever encountered, topped off by the lack of urgency or even regret over the time it takes to service a given customer.
The product, implicitly, is worth a pilgrimage of infinite time … which in reality, isn't the case. The pizza is plenty good, but hardly lifechanging. Yet typically – if you've had a different experience, tell me – the line out the door is somewhere between 50 and 100 people.
Once you order your food, it's prepared right in front of you, cooked in what I gather is the oven to beat all ovens, and ready to serve fresh and hot within five minutes. There's a rule against saving seats in the restaurant until your food arrives – a rule that gets broken by some patrons, to our judgmental annoyance – but really, it's not an issue. There always seems to be an empty table by the time you're ready to sit down.
But the line. It's insane. Just insane. We've been there two times. (Yeah, fool us twice …) Today, I timed the wait – nearly 50 minutes from our arrival to the cash register. You're just standing there, moving a footstep once in a blue moon. I mean, who would actually volunteer to enter this kind of trap outside of a baseball stadium or other venue where you had no other options?
The answer, apparently, is hundreds or thousands of people every day, all generally in good spirits. It's remarkable. It must be one of those things where people see the line and just assume they must want to be a part of it.  I have to imagine that someday, more and more people will decide, with a nod to Yogi Berra, that it's so crowded that nobody should go there anymore. But that doesn't seem imminent.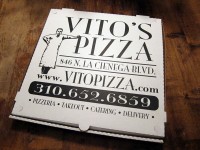 I'm bowing out, however. Vito's Pizza on La Cienega will remain our go-to place. It's farther away from our house, but we can complete the round trip in the time it takes to traverse the quarter-block line on Lindbrook Avenue in the shadow of the old Mann Festival theater. My New York-born-and-bred wife, who by birthright is the authority on such matters, deems Vito's the best pizza in Los Angeles, and I've never seen any reason to disagree.