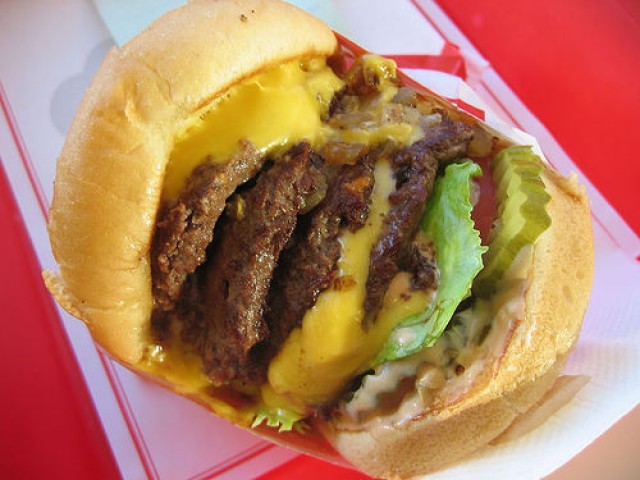 Animal style, protein style, error style — any way you cook it, the Dodgers came in 'n out of Philly with four consecutive victories, capped by today's 8-3 munching.
That's what a sweep is all about.
Today's game picked up on this morning's defensive theme early, with Alex Castellanos and Elian Herrera each making errors in a third inning that put the Dodgers behind the Phillies, 3-0.
Undaunted, the Phillies came back with four errors of their own, two of them on consecutive plays to start the sixth inning by Ty Wigginton, with the Dodgers then capitalizing off Phillies starter Cole Hamels to take 4-3 lead.
Los Angeles was set up to take its fourth consecutive one-run victory in Philadelphia when the Phillies made two more errors in the ninth inning, helping the Dodgers score four runs to all but put the game out of reach. Herrera, Juan Rivera, Jerry Hairston Jr., James Loney and Matt Treanor each reached base twice on the day.
Aaron Harang went the first six innings for the Dodgers and allowed eight hits and a walk on 92 pitches. With the front end of the Dodger bullpen resting after being used heavily in the series' first three games, Los Angeles got a boost from two innings of shutout relief from Jamey Wright. Shawn Tolleson then made his major-league debut and walked the first two batters he faced, causing him to get yanked for Ronald Belisario. The prodigal Dodger got the final three outs on seven pitches, capped by a game-ending double play by Hunter Pence.
Belisario lowered his 2012 ERA to 1.17. He has allowed two runs and 16 baserunners in 15 1/3 innings with 11 strikeouts.
Update: A ninth-inning error was later changed to a double for Andre Ethier.