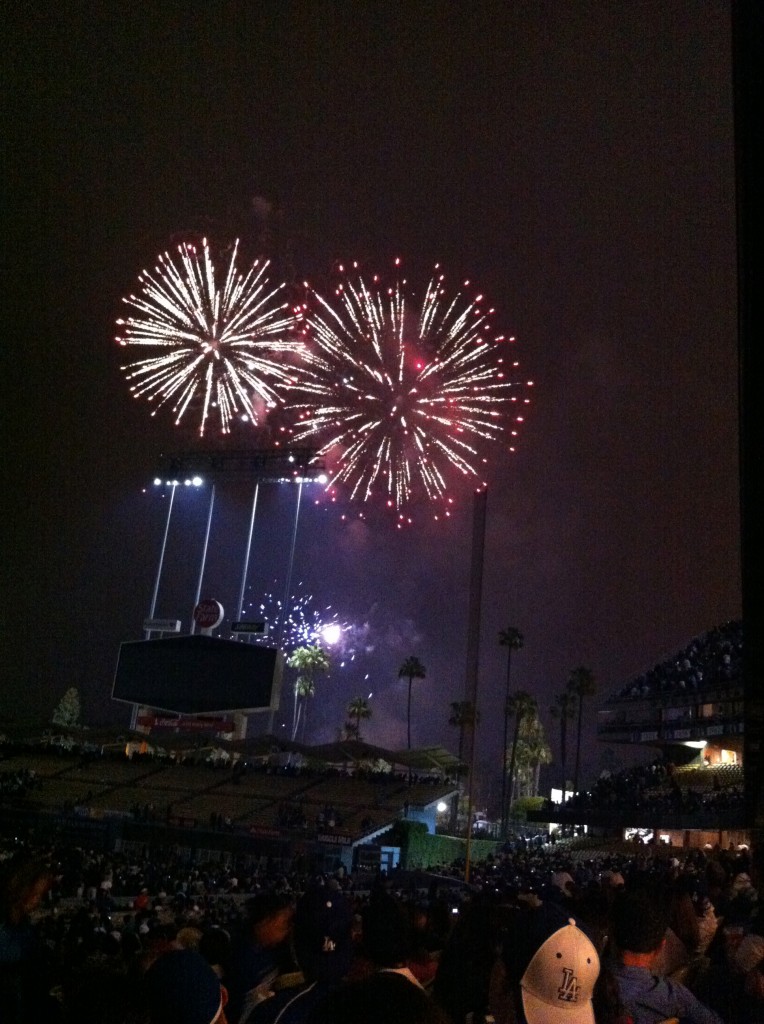 Pretty glorious night all around. The five Weismans didn't get out the door until 6 p.m., but we were in our seats by the start of the second inning, saw a svelte, 144-minute 4-1 Dodger victory punctuated by five strikeouts of the final six Cincinnati batters, took in one of the best fireworks shows at Dodger Stadium in years (a perk of new ownership?) and were out of the stadium and back at home less than four hours after we had left. It's 10:15 p.m. as I start typing this, and the kids are tucked away in their beds.
So sure, we only heard the Dodgers' three-run first inning on the car radio, which started with four consecutive hits at the top of the order, meaning that we only witnessed two Dodger base knocks after we arrived. And sure, Dee Gordon let the air out of his 30th stolen base of the year by dislocating his thumb. But otherwise, like I said, glorious and svelte.
Assuming Gordon goes on the disabled list, as Ken Gurnick points out is likely in the above-linked story, your starting shortstop for the next two or three weeks is probably Luis Cruz, who went 2 for 3 with a walk to raise his three-game on-base percentage to .400. That will please those who had grown tired of Gordon, but the Roadrunner had upped his OBP in his past 12 games to .346 while stealing 10 bases in 11 attempts. Aside from the two errors against the Mets, you started to see improvement in Gordon if you were open to it, so it seems a shame to lose him now.
Certainly, this is nothing new for the Dodgers, and the epilogue to the Gordon saga is that when he went out with his injury in the eighth inning, it was Mark Ellis pinch-running for him in his first action since May 18. Ellis will ideally return quickly to his form of the season's first six weeks, when he had a .373 OBP and flawless defense.
With the Giants losing again to Washington shortly after I finished my morning cereal, Los Angeles is back in first place, and five regular-season games from now, heading toward the July 31 trading deadline, could have a 2-3-4 in the lineup of Ellis, Matt Kemp and Andre Ethier. Hard to worry about the situation at shortstop when you can fantasize about that. (And yes, you just saw me getting excited about Mark Ellis.)
Just to wrap up the night, Aaron Harang allowed only four baserunners and a run in seven innings, one of his best outings of the year, before Ronald Belisario struck out the side in the eighth  (lowering his ERA to 0.99) and Kenley Jansen fanned two in a perfect ninth to end it. After Reds star Joey Votto doubled in the first inning, he, Brandon Phillips and Jay Bruce combined to go 0 for 10 against Dodger pitching.