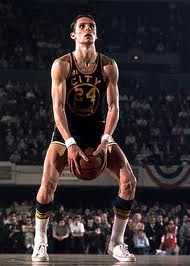 If you're in favor of the designated hitter in baseball, are you also in favor of a designated free-throw shooter in basketball? You can check this out to know more about basketball.
At ESPN.com, the estimable Christina Kahrl revived the arguments for placing the DH in the National League, arguments that have as little effect on me as I'm sure mine against the DH would have on her.
Concidentally, there was a front-page story in the Times sports section today on the free-throw woes of Clippers center DeAndre Jordan, indicating that – like Lakers center Dwight Howard and many other big men before them – Jordan is so poor at shooting free throws that it is limiting his playing time and generally causing headaches.
My first thought was wondering how, with so many years in which you're paid to do nothing but play basketball, players can still be so poor at free-throw shooting. But I realized, look, some skills are just never going to materialize for some players.
And then it hit me: I've just described hitting for many major-league pitchers.
Some pitchers can learn to hit, but most won't. Because of that, many people think that no pitchers should hit at all. That has never made sense to me, because I don't think the pitchers who can hit should lose that advantage. And I still think it's a worthwhile goal to strive for. Look at our friends old and new, from Rick Rhoden and Terry Forster to Clayton Kershaw, who over the years has improved at the plate while still developing on the mound.
Having the pitcher's spot in the lineup enhances baseball strategy, and stories of pitchers getting hurt while playing offense are overblown. Pitchers deliver far more memorable moments at the plate than injure themselves.
But let's put all that aside and ask yourself this – if you're pro-DH, shouldn't you also be pro-DFTS?
Bad free-throw shooters are almost never going to get better. They are painful to watch. They are otherwise key players who aren't able to play as often.
Most of all, unlike in baseball, where so many of us enjoy trying to think ahead like a manager, bad free-throw shooting brings out the worst in basketball strategy. No one fantasizes about instructing their imaginary team to foul other players; no one salivates over the last two minutes of an NBA game taking 20.
Other than the exceedingly rare injury for pitchers while on offense, there's little argument for the DH that doesn't make more sense for the DFTS. The DFTS would discourage fouling, keep the best players on the floor and make the end of a basketball game more entertaining.
I'm against the DH and the DFTS. But whether you're pro or con, they go together — and yet the world is silent on the latter.