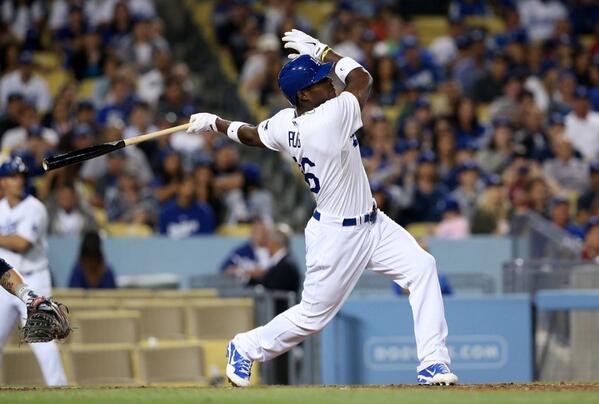 There is approximately a seven-second delay between when tweets from Dodger Stadium appear on my home computer and when the events they are describing appear on the small TV next to it.
When Yasiel Puig came up in the bottom of the sixth inning, his first career double and home run (and error) already to his credit, the Dodgers nursing an unlikely 7-6 lead courtesy of the second RBI hit of the entire season by Luis Cruz, I was just starting to settle in for what might be a thrilling at-bat, a rocket ship to the moon.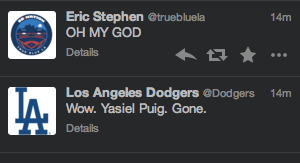 And then, before I even got my seat belt on, the rocket launched.
The Dodgers tweeted. Eric Stephen tweeted. My TV showed only ball one. And my heart dropped down a mineshaft into my gut.
Yasiel Puig, phenomenon.
Tonight was going to be the night we would all let the Puig hysteria take a breather. He might get a hit, he would strike out a couple of times, he would make that error, and after Monday's stunning start, we'd load up for the long haul.
Instead, on a night at Dodger Stadium that probably eclipses even emotion felt following the pinch-hit Manny Ramirez grand slam of 2009, a night that the Dodgers came back and held on for a 9-7 victory over San Diego, you needed to defibrillate all of Los Angeles.
Puig is the first major-league player with at least two homers and five RBI in his second game in 64 years. He is 5 for 8 with 12 total bases in his 27-hour-old Dodger career. But the stats don't do the phenomenon justice.
If Matt Kemp came on as the Bison, what is Puig? Beast of the Cuban Wild? If I'm Hushpuppy, this is what he looks like to me.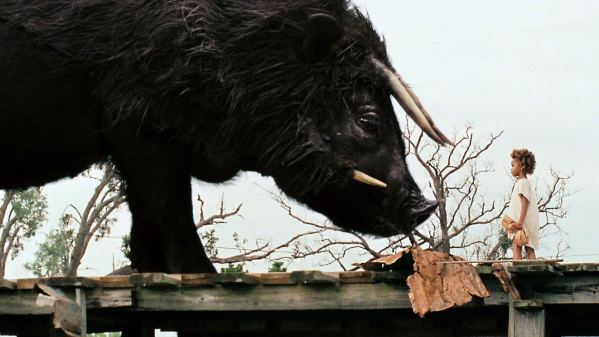 I don't think I'm alone. Puig's exploits brought youthful thrills from Vin Scully, who shouted "Que viva Cuba, viva Puig!" as each moment topped the last.
"If you joined us late," said Scully, "I'm sorry."  And that was before Puig's second homer, an opposite-field laser over the right-field wall.
As the Dodgers fell behind 3-0 in the second inning and 5-2 in the fourth, starting pitcher Ted Lilly bringing nothing to tonight's party, my thought was that Puig won't mean a whole lot to the Dodgers if the Dodgers can't get guys out. Monday's victory, after all, was as much about Dodger pitchers holding San Diego to one run over the first eight innings as it was about Puig and the defense holding them down in the ninth.
But Puig forestalled that reality, with help from Tim Federowicz, who turned hard on a second-inning Clayton Richard pitch and hit a two-run second-inning homer down the left field line, and Cruz, who reached base twice for only the third time this season. Puig's first homer, with Federowicz and Cruz aboard, bridged a 5-2 deficit in the bottom of the fifth, before the second homer gave the Dodgers the eighth and ninth runs they would need in hanging on to victory.
So tonight, once again, we soar to the sky. Viva Puig! Tomorrow, we return to Earth. Right? Right?
With Yasiel Puig in right field, and Clayton Kershaw on the mound, I'm not so sure.