I spent the past week like a Merchant Marine on a ship at sea, if the Merchant Marines had three kids to wrangle but otherwise every whim catered to, thanks to the generosity of their in-laws.
During my absence from the States, it was another eventful but victory-challenged week for the Dodgers, who continue generating all manner of interesting side trips but can't much alter their main journey of failing to execute when it counts.
Almost every aspect of the team is so inconsistent, so unreliable, that to form any expectations of sustained success – and by sustained success I simply mean nine innings of winning baseball – is foolhardy. The ship was built with good intentions, but clearly the seas have their own agenda and we are at their mercy. Water, water, everywhere, nor any drop to drink.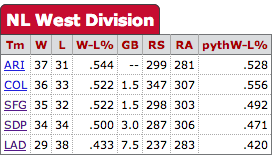 Overall, however, the National League West requires medication for all, in its bizarre mix of mild overachievers and dyspeptic disappointments. Arizona, Colorado, San Francisco and San Diego aren't exactly drowning their rivals in their wake. The waters aren't kind to anyone these days.
And so we raise our sails on this Father's Day, a day devoted to appreciation of those who captained us and championed us, and continue our voyage (weather permitting). Why do we do it? I guess because we are sailors, and because they keep putting that ocean out there.
* * *
Bob Timmermann held the fort here for the past several days and reminded us all of his genius. For more of his writerly stylings, please continue to check out his work at The Portable Griddle, L.A. Observed's Native Intelligence and on Twitter.