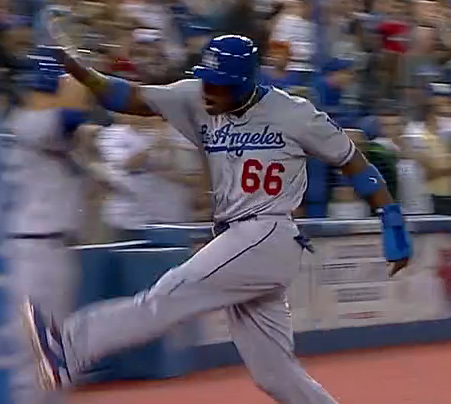 This is no joke: My wife and I went to see "The Way Way Back" tonight, and in the moments before the movie started, I was tracking the Dodgers and Blue Jays on my cellphone.
With two out in the ninth and two strikes on Andre Ethier, I stopped getting updates.
I checked Twitter, and this is the last tweet that was made available.
Wow

— Eric Stephen (@truebluela) July 25, 2013
That was all I got. The movie started, and my phone went reluctantly back into my pocket.
But the picture was quite enjoyable. I actually lost myself in it right away. When it ended, I hesitated to go back to my cellphone to spoil my state of contentment.
But walking to the car, I checked again.
Here's the part that I think is the craziest (aside from scoring the tying run from first base on a single, or following that with five runs in the 10th inning off a pitcher with a 0.00 ERA, or Brandon "Never give up! Never surrender!" League pitching two shutout innings for his second win in two nights):

Seventeen runners in scoring position. I know Dodger fans, like me, were frustrated that the team wasn't converting those runners into runs, that it was an unpleasant reminder of the first 2 1/2 months of the season. Honestly, during that Ethier at-bat, I was ready to tweet, "The Dodgers stole one Tuesday, then gave it back tonight."
But 17 runners in scoring position. Do you realize what it takes to get that? And it was just another night for the Dodgers, who ended up with at least eight runs for the fourth night in a row for the first time since 1985 and the third time in Los Angeles history.
And as you no doubt have heard by now, the Dodgers won their 10th consecutive road game for the first time since 1954, and as Mike Petriello at Mike Scioscia's Tragic Illness points out, they are on their first 23-5 run since 1955.
Can we just call this October and pop the champagne? I sure feel like it. Why let The Man decide when we declare ourselves World Champions? This is our moment.
Or can the Dodgers play like this in the fall? That'd be good, too.