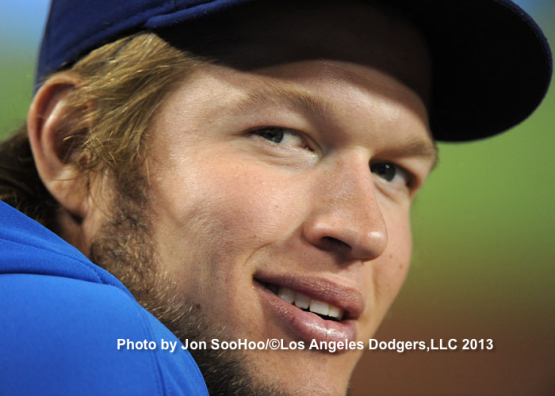 By Jon Weisman
Continuing our celebration of Clayton Kershaw's contract extention today, here's a look at what other journalists are saying. Though Clayton Kershaw has signed the richest contact for a pitcher in baseball history, more than one analyst is affirming that the Dodgers got a good deal.
Dan Szymborski of ESPN Insider:
Running Kershaw's long-term projections through the ZiPS projection system, it's easy to see how the Dodgers can justify this signing as a lot more than simply throwing large sums of money around. Playing in Dodger Stadium and the National League, which has been slightly weaker than the American League for a while now, ZiPS views Kershaw to be worth 50.9 WAR over the next 10 seasons, taking Kershaw even past the career mark estimated for future Hall of Famers. …
… As with all pitchers, there is that one worry with Kershaw, the chance that something bad happens to his elbow or, even worse, his shoulder. When pitchers stand on the mound, their enemy isn't just the opposing hitter, but evolution, which has not yet resulted in humankind developing the extra-tough ligaments and tendons needed for the excruciating physical process required to throw a baseball 90 mph thousands of times a year.
But here's the thing about that injury risk: It's already baked into the cake.
ZiPS isn't reaching its valuation by assuming Kershaw will be healthy. The long-term consequences require us to be conservative with a future projection for a pitcher, and ZiPS does this, with the risk of injury resulting in ZiPS forecasting Kershaw to hit 200 innings in only four of 10 seasons and the expectation for Year 10 being down to merely 127 1/3 innings pitched. …
Dave Cameron, Fangraphs:
… Crazy long deals for pitchers have historically not worked out well, but historically, they haven't been given to pitchers that are this good or this young. …
Jay Jaffe, SI.com:
… this seems like silly money to be throwing around for any pitcher, but Kershaw's age and clean injury history would appear to make him a better bet than most. He has never served a stint on the disabled list during his six-year major league career and has dealt with only a couple of minor injuries. He missed a pair of September 2009 starts due to an AC joint issue in his shoulder and one in September 2012 due to hip impingement. He has thrown 373 2/3 fewer innings than (Justin) Verlander did at the time of his extension that covers his age 30-36 seasons, and 440 1/3 fewer innings than Felix Hernandez did at the time of his quickly-surpassed seven-year, $175 million extension that covers his age 27-33 seasons. …
Richard Justice, MLB.com:
… While the amount of the contract and how it impacts other pitchers in the game will be a topic of conversation, it's really simpler than that for the Dodgers. It's about winning and doing things right.
Mark Saxon, ESPN Los Angeles:
… Let the Koufax comparisons roll on. Let's watch Kershaw build his legacy. Let's see if he can erase the latest, bitterest memories from the minds of Dodgers fans, of that Game 6 start against the St. Louis Cardinals, the worst of Kershaw's season. We know enough about him to imagine that, even with all of this money flowing in, he'll come in angry this spring to move beyond that ugly night.
The good news is, he's got another seven years or so to make it up Dodgers fans. If we gauge this team's intentions and talent level right, there should be plenty more Game 6's and 7's in the interim. If you're a Dodgers fan right now, you're wishing Kershaw could pitch every one.
Bill Baer, Hardball Talk:
… Taken all together, this is about as good of a gamble as the Dodgers could have hoped to have taken. The Dodgers are gambling on seven years which encompass the entirety of Kershaw's prime and the contract barely takes him into his 30s. Moreover, Kershaw has had a pristine bill of health through six seasons, especially since he has avoided elbow and shoulder injuries in his pitching arm. And, of course, he has been by far the best pitcher in baseball in recent years. There's always the chance that this deal will go horribly wrong for the Dodgers, but you'll be hard-pressed to find a more favorable situation with which to invest $215 million.
Tom Verducci, SI.com:
… In Kershaw, the Dodgers have exactly the model player that makes a $215 million investment seem easy to digest. Los Angeles did an internal study about how Kershaw rated not just among his peers but also against all pitchers all time. What the Dodgers decided was that he was the best pitcher in history after passing the 1,000-inning mark. What they already knew was that his competitiveness on the mound and his perspective on life were also off-the-charts good.
Every long-term contract for a pitcher is a risk because of the injury factor. Kershaw, though remarkably durable through age 25, is no different. But baseball clubs keep telling you how important pitchers are with the money they keep throwing at them. Of the 18 largest contracts in history as ranked by average annual value, 10 of them have been handed to pitchers. It's a necessary risk. The Dodgers were able to retain the best pitcher in baseball without going beyond seven years of commitment. They have committed to pay Kershaw through his prime years only, through age 32. …
Tim Brown, Yahoo! Sports:
… It may seem trite, but the Dodgers view Kershaw as more than a 230-inning, 1.83-ERA rock, rare as that may be. This is, after all, the young man who insisted on the ball on three days' rest in the team's most recent division series. In Game 4 of that series against the Atlanta Braves, he did not allow an earned run over six innings. Beyond that, he is a forceful leader in the Dodgers' clubhouse, a difficult job for someone who plays every fifth day. On those days, Kershaw often is the toughest man on the field, where he operates at the corner of precision and ferocity. In his down time, he – along with his wife, Ellen – built an orphanage and a school in Africa. The Dodgers like the pitcher. Really like the pitcher. They'll pay the pitcher. But they also love the guy.
So the Dodgers sign up for seven years of Kershaw – the two-time Cy Young Award winner, the Sandy Koufax disciple, the undisputed best pitcher in the game. They also sign up for Kershaw the man, the teammate, the example. …
Bill Shaikin, Los Angeles Times:
… Kershaw has been so consistent in his excellence that his catcher, A.J. Ellis, put the record contract into perfect perspective.
"He's the highest-paid pitcher of all time, and it still feels like he's underpaid," Ellis said Wednesday. …
Ben Lindbergh, Baseball Prospectus:
… You can make a strong argument that Kershaw is the most accomplished 25-year-old pitcher of the past century. This is that argument, boiled down to one table:
Those are the best ERA+ marks among pitchers with a minimum of 1,000 innings pitched through age 25. The last time a young pitcher made the league look this silly, the Lusitania was still sailing. In an era of enlightened pitcher usage, Kershaw hasn't had the opportunity to add as much value as a number of young pitchers who were worked harder early on. But inning for inning, there's been no one better. …
… This all seems sort of circular: Kershaw has avoided the DL, which suggests that he's more likely to stay healthy, but because he hasn't been hurt, he's been able to pitch more, which suggests that he's less likely to stay healthy. Either way, he can't win. Of course, we're mostly flailing in the dark when we project pitcher injuries, so as long as Kershaw had no bones sticking out through his skin, someone was going to sign him to a huge contract if the Dodgers didn't. Because of his history with Los Angeles and the likelihood that the team will keep contending, he's worth as much in LA as he would have been anywhere else. And should disaster strike, the Dodgers have the deep pockets to survive the sunk cost. …
Peter Gammons, Gammons Daily:
… Frank Tanana should be in the Hall of Fame. Instead, he is remembered as good. Score was the victim of fate, Tanana the victim of abuse with the sub heading, "they just didn't know better."
So, just for fun, look at Frank Tanana's numbers in his age years 20 through 23, and thank the Nationals for caring about Stephen Strasburg, the Dodgers about Kershaw, the Rays about Price, the Mariners about Hernandez, and hope that the Marlins will keep their eyes on Fernandez, the Dodgers on Urias, the Red Sox on Owens, the Diamondbacks on Bradley.
Justin Havens, ESPN.com:
But now the question shifts to how Kershaw will age and perform over the length of his seven-year contract.
In order to do that, we need to look at the pitchers who have fit a criteria similar to Kershaw at this point in their careers:
• At least 900 innings pitched from age-20 season to age-25 season
• An adjusted ERA (ERA+) of 120 or better over the span (ERA+ allows us to accurately compare pitchers across different eras)
• Pitchers who began their careers in 1950 or later
Using that criteria, we get 20 pitchers to whom we can compare Kershaw (those who have pitched at least through their age-32 season, since this contract would take Kershaw through his age-32 season). …

… By the seventh season, what would be the final season of Kershaw's extension, 35 percent of the sample of 20 pitchers was essentially replacement-level, while only 20 percent produced what would be referred to a star-level performance.
If Kershaw follows the trajectory of the 20-player sample, the chart (below) shows what could be reasonably expected of him throughout the contract.
Average Yearly Production
of 20-Player Sample
 
IP
ERA
WAR
Age-26
229
2.97
4.8
Age-27
224
3.14
4.9
Age-28
210
3.29
3.9
Age-29
179
3.57
2.9
Age-30
174
3.26
3.6
Age-31
146
3.59
2.5
Age-32
121
3.55
2.4
* Kershaw: contract will take him through age-32 season