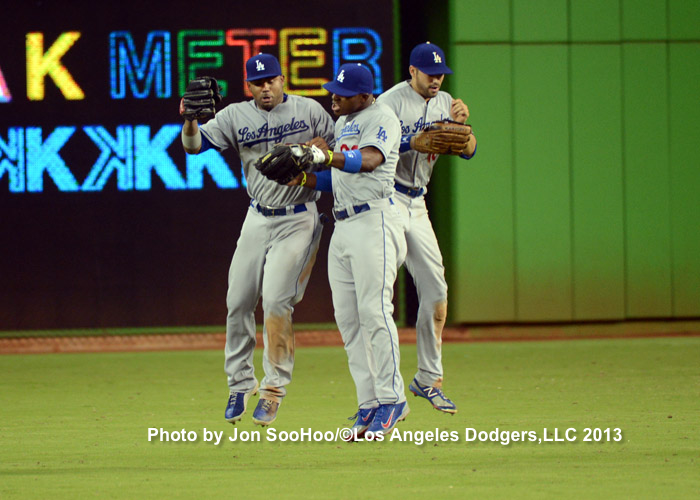 By Jon Weisman
I worry. A lot. Which makes me a pretty good barometer for not worrying. If it doesn't bother me, it probably shouldn't bother you.
This fear that the Dodgers have one too many starting outfielders, I've pretty much dismissed. Not just that there are worse problems to have, but that this isn't even a problem.
Whether it's the timing of Matt Kemp's return to regular action, fear that Yasiel Puig will run into one wall too many or general concern over the vulnerability of Carl Crawford and Andre Ethier, the chances that the Dodgers will have four healthy outfielders for the entire year seem about as likely as the 2013-14 Lakers will string together four wins in a row the entire season. (Yeah, I went there.)
Worrying about a surplus is so Spring 2013. There was the Dodgers' so-called overload of starting pitchers, and we know how that turned out.
But since no one's rooting for bad health or bad karma, and it is possible that Kemp and Co. hit April at full strength — even if Kemp were to sit out the Dodgers' Australia games — how uncomfortable could it be?
Let's start by defining some kind of ideal. In 2011, the year of his near-Most Valuable Player campaign, Kemp played 1,380 innings in the outfield and had 689 plate appearances. Let's call those the benchmarks of happiness – or to make them easier to remember, the Benchmarks of Happiness.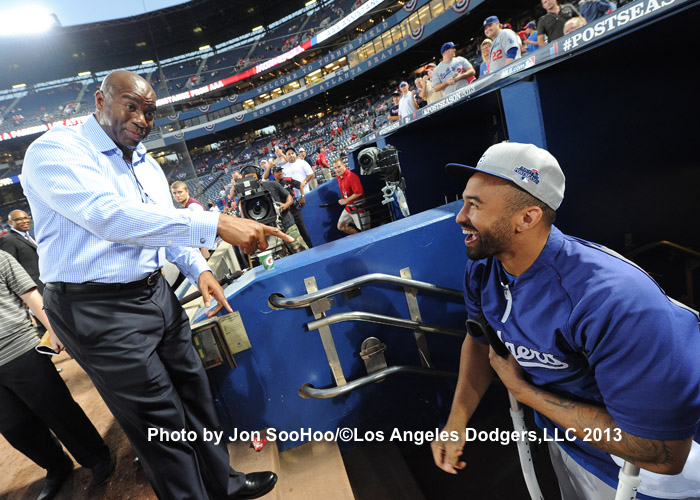 Meanwhile, the Dodgers can expect to have no more than 4,400 innings to pass around the outfield this year (162 games x three outfielders x nine innings = 4,374). That number's on the high side, even allowing for extra innings, if you factor in that some games will require only eight outfield innings unless the Dodgers go undefeated on the road. Plus, there will be 10 games in American League parks in which a healthy starting outfielder might be the designated hitter.
That means that if all four outfielders were completely healthy and Don Mattingly divided their time equally, they could each get 1,100 innings, or 80 percent of the Benchmark of Happiness. Not bad, especially considering how good their bodies would feel under this scenario.
Of course, this isn't the scenario that worried people. That was the scenario where there were four healthy outfielders but one got the short straw, the straw that, to paraphrase Reggie Jackson, doesn't stir the drink, unless that drink is in a shot glass.
If three teammates each took 1,300 innings in the outfield and left you with only 500, that's a pretty big difference, especially if you consider yourself All-Star caliber, as Kemp, Ethier and Crawford have been and Puig is poised to be.
Lazy as I can be, I wouldn't want to be the 500-inning guy, not if I felt I could do more.
Nevertheless, to that, I say the following:
You probably don't become the 500-inning guy unless you're having a rough season at the plate. It's simply not in Mattingly's nature to marginalize a productive player.

If three outfielders are so good that they render the fourth irrelevant, well, at least you've got three great outfielders.

Even coming off the bench, you can be a difference-maker. 

None of the four outfielders has a contract on the line this season – or for quite some time. Crawford's deal runs through 2017, Either's through 2017 with a club option for 2018, Puig's through 2018 and Kemp's through 2019. Puig reportedly has a clause in his contract that allows him to opt into arbitration after three years of service time, but that's not an immediate worry. Each is already earning more money than they could have dreamed of. This is a good time to be selfless.
It's one thing to not be happy that you're not playing every day, but to actually cause the team trouble because you're not playing every day, knowing that a World Series is at stake and knowing that at any moment, you could be called upon to play more … I just can't even finish the thought. It's too extreme. It's also why you have a Don Mattingly as your manager – to deal with that.
The bottom line is this: Would it be worth it for the Dodgers to weaken their outfield depth, in the face of potential injuries, just to ward off this potential of pouting so powerful that it would derail the team? I don't see it.
When Spring Training arrives next month, we'll no doubt see a round of stories addressing the four-outfielder dilemma, and the Dodgers' position, I suspect, will be as it's been this offseason – that there is no dilemma. And they'll be right. True, one of these guys will be on the bench for the first pitch of the season. What happens next is anyone's guess, which is why it's not worth worrying about.