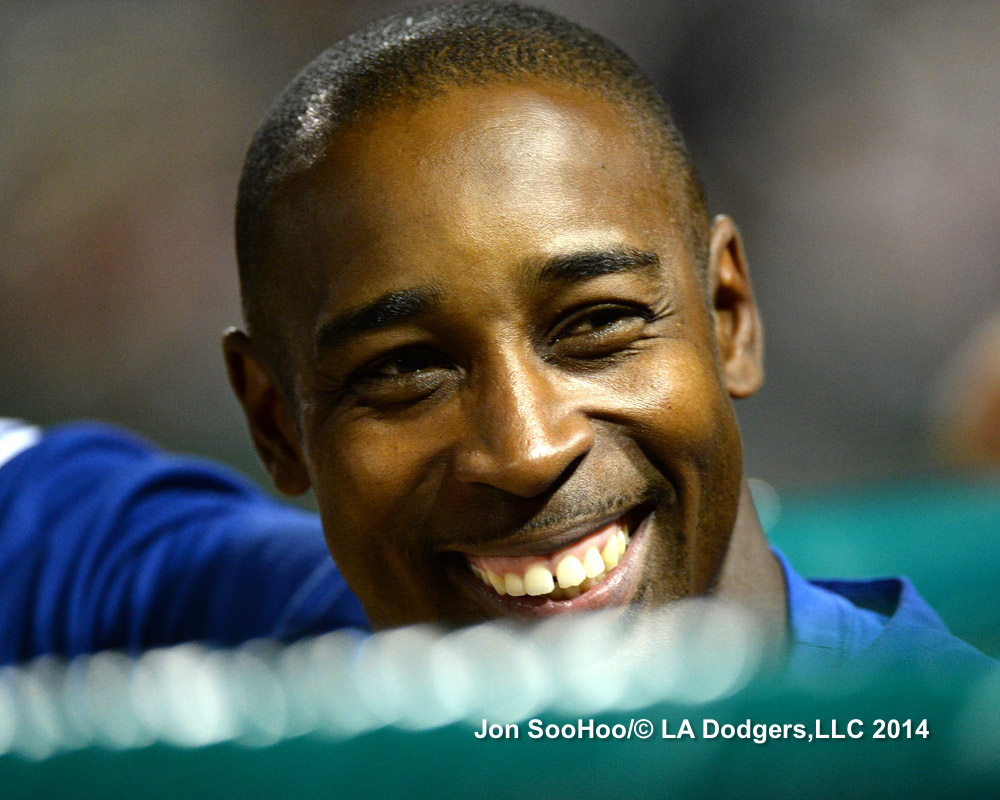 By Jon Weisman
On his mission to reestablish his reputation as a hitter after an unfulfilling journey to Seattle and then a year out of Major League Baseball, Chone Figgins keeps drawing walks.
Despite hitting .167 in Cactus League play, the 36-year-old Figgins led the Dodgers with nine walks — drawing one in nearly 20 percent of his plate appearances, to improve his on-base percentage to .326 — then followed things up with a six-pitch walk in his only official plate appearance in Australia.
In his 11-year MLB career, Figgins has all of 35 homers and a .364 slugging percentage, compared with 337 steals that have made him a threat every time he reaches base, so it's not as if pitchers don't have an incentive to challenge him — especially in Spring Training. Nevertheless, like such Dodgers of the past as Brett Butler and Jamey Carroll, a lack of power hasn't stopped him from drawing ball four.
Figgins averaged 58 walks per season for the Angels from 2004-08, then soared to an American League-leading 101 in 2009, a year he had seven triples and five home runs. Even in Seattle, where hits were at a premium for him, he was routinely able to increase his on-base percentage noticeably.
How does he do it?
"I've always been a guy who's seen pitches, but it's not that I'm trying to see pitches just to walk," Figgins said. "I'm more looking in a zone, and if I don't think it's in that zone, then I take it. I'm not afraid to hit with two strikes. I'm not trying to hit with two strikes, but I'm not afraid."
Often, he noted, the situation dictates the approach, and that includes taking strikes — but again, not just for the sake of taking pitches.
"If there's a guy at first," Figgins said, "and I may be trying to hook the ball in the hole, there's certain pitches I can't do it with. … I'm looking for a certain pitch to be able to get in the hole.
"I'm trying to make sure I stay within myself. It's more I give myself a higher percentage (chance) to hit the ball hard. If I'm chasing the ball out of the zone, I'm lowering my percentage."
With two strikes, he has to be more flexible, but there's still pressure on a pitcher to execute.
"If it's a 2-2 (pitch), and I know the guy has a nasty split, I'm thinking, 'You know what, he might throw a split, but make sure it's up.' Make sure everything's up in the zone with two strikes, that way it gives you a better chance to make contact."
Figgins' defensive versatility is his obvious calling card, but while no one's expecting him to win a batting title, it's this ability to manufacture trips to first base that could be key to his staying power with the Dodgers.