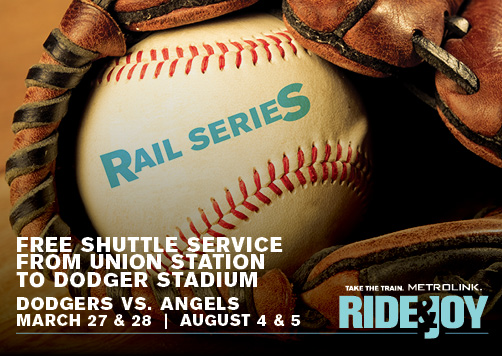 By Jon Weisman
Some public transportation notes for the Freeway Series games at Dodger Stadium:
Fans can take Metrolink train 609 or 689 for just $7 round trip tonight and Friday on the Orange County Line. A special late-night train departing L.A. Union Station heading back to Orange County will depart one hour after the last pitch.
Fans arriving by Metrolink to L.A. Union Station can ride the Dodger Stadium Express from Bus Bay 3 at the Patsauorus Transit Plaza to the stadium for free by showing their Dodger game ticket. Last year more than 186,000 fans took the Dodger Stadium Express to the Dodger games.
Rail Series special trains will be offered again on August 4 and 5 for the regular-season interleague games against the Angels at Dodger Stadium.
For more information about transport to the Freeway Series games, go to metrolinktrains.com/railseries.
For more general Metrolink information as it relates to the Dodgers, go here.
Parking for the games tonight and Friday at Dodger Stadium starts at $10. Remember, beginning with regular season games on April 4, general parking will start at $10 if you prepay in advance.
One more note: Stadium Way Gate B will not be open for the two exhibition games. The Dodgers are working to distribute resident-only placards for use on game days, which will be available on Monday and Tuesday. All gates will be open on Opening Day.