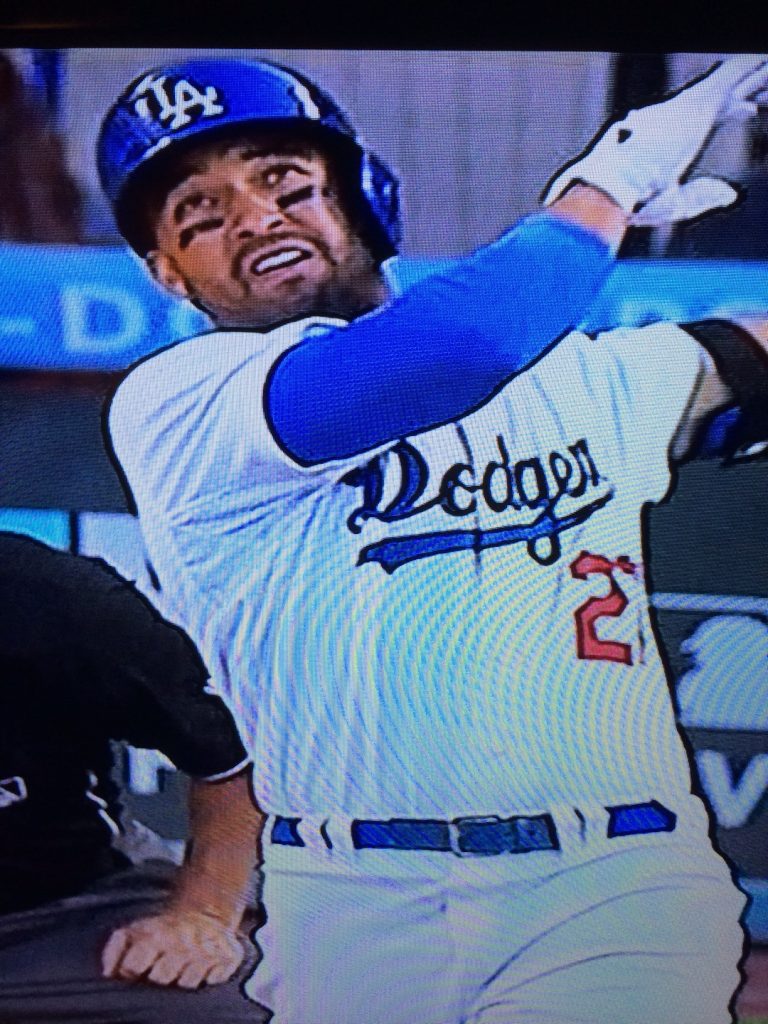 By Jon Weisman
The tweets and comments you would see ridiculing Matt Kemp over the past year and a half were predictable, given the wave of negativity that can flourish online, but still plenty vexing.
Kemp would get torched for not being productive enough, regardless of how healthy he was. He would get torched for struggling to stay healthy at all.
His track record, seemingly, was worth nothing. The "What have you done for me lately?" gang never had it so good.
Tonight's two home runs, two rousingly authoritative home runs in the Dodgers' 6-2 romp over the Giants (recapped by Earl Bloom for MLB.com) don't ensure that Kemp will regain his near-MVP form over the long haul. But it does put a spotlight on how silly it was for anyone to give up on him.
Kemp, who had played 399 consecutive games before the series of injuries began, could arguably be his own worst enemy — racing into walls, sliding awkwardly into home, trying to come back too soon. None of these plays spoke poorly of his desire or the fundamental talent he brings to the field.
As his comeback entered its most trying phase, over the winter when he couldn't even run, the catcalls might have reached their peak. How frustrating it must have been for Kemp, to have to issue "Bull Durham"-esque "I'm just working" quotes for the most part because anytime he expressed a feeling about his true value, he risked being labeled selfish.
Maybe Kemp doesn't want to sit on the bench. Maybe he doesn't express that feeling well 100 percent of the time. Should that, or the injuries, have meant that he should be tossed aside like garbage?
Kemp had earned some rope, some patience, some faith, more than some people were willing to give him.
It was just one game of two homers tonight. It was just one series with 10 total bases, a walk and a 1.242 OPS. No one knows how many games he will play this year. But I bet more than a few people who doubted him are thinking twice now.
* * *
Tonight's game generated one prize-winning bit of trivia. According to the Elias Sports Bureau, the Dodgers had their most hits since at least 1900 without a single. The Dodgers had three doubles and four homers, evaporating their previous record of three doubles and two homers on June 25, 2002 in a 4-0 win over the Rockies at Dodger Stadium.
Not only that, the Dodgers struck out no fewer than 16 batters — half by Zack Greinke, the last four of them on a called third strike.
Can't remember when I last saw this many backward Ks in a row. pic.twitter.com/BBerWp5kek

— Dodger Insider (@DodgerInsider) April 7, 2014
Chris Withrow added three more while nearly tying a record himself, using only 10 pitches to strike out the side. And how about Withrow this season? For a guy who was considered likely to start 2014 in the minors, allowing a single and a walk to the 17 batters he has faced while striking out eight looks pretty good.
Kenley Jansen also struck out the side in wrapping up the victory.
* * *
Yasiel Puig is day to day with a strained thumb ligament, according to MLB.com.