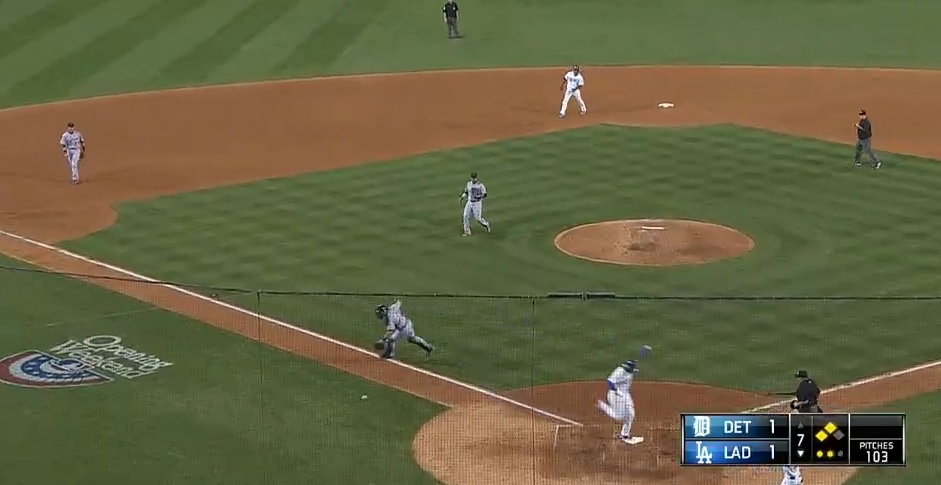 By Jon Weisman
It might be going too far to say tonight's Dodgers-Tigers game had a World Series atmosphere, but it definitely had the right kind of atmosphere.
It was festive, with 53,131 in attendance. A little hot — 79 degrees at first pitch — but not too hot.
It had a fall intensity. When Matt Kemp scored a go-ahead run in the bottom of the seventh inning, he did it with his fist in the air.
And though the Dodgers might have been underdogs on paper, given that they were facing the 2013 American League Cy Young Award winner, they gave their fans a treat, scratching out a 3-2, 10-inning victory over Detroit.
Five Dodgers were on the 15-day disabled list entering Tuesday's game against the Tigers, including their own Cy Young honoree in Clayton Kershaw. But everywhere you looked, Dodgers were stepping up.
Kershaw technically was eligible to come off the disabled list today, so what could have been his start was instead taken by Dan Haren. All Haren did was throw six innings and allow only a home run by Austin Jackson, a walk and two singles. That's the only earned run Haren has allowed in 12 innings so far in 2014.
While Brian Wilson dazzles the denizens of Rancho Cucamonga with rehab innings, Chris Withrow — a candidate to begin the season in the minors — extended his streak of perfection to 17 batters in a row. During that streak, he has thrown 22 balls — averaging 1.3 pitches out of the strike zone per batter, while fanning nine. Chris Perez added a scoreless eighth in Wilson's customary spot.
Fresh from the minor leagues to replace the injured A.J. Ellis, catcher Tim Federowicz made his first MLB appearance of 2014, had a double in three at-bats and threw out the potential go-ahead run attempting to steal in the ninth innings.
Add in Dee Gordon's continued superb play at what was considered the Dodgers' weakest position (not to mention Justin Turner's game-tying sacrifice fly), and you have a team that's impressively weathering the injury storm.
Perhaps nothing summarized the Dodgers' concentrated effort than the way they set down Miguel Cabrera four times in a row, bookending the feat by doing so with runners on scoring position in the first and ninth innings. Kenley Jansen fanned the two-time Tiger MVP with pitches each clocking 98 mph.
Detroit certainly did its part to match the intensity, coming back twice from one-run deficits to tie, the second time with two out in the ninth on Victor Martinez's RBI single to center field off Jansen.Carl C
But in the bottom of the 10th, the Dodgers were sparked by the mesmerizing pitcher-destroying mojo of another reserve, Chone Figgins.  For the third time in five plate appearances this year, Figgins walked. He took all six pitches thrown at him by Joba Chamberlain, meaning that of the 32 pitches he has seen in 2014, he has swung at only seven. In his three walks, he has seen 19 pitches and swung at one.
Gordon popped out bunting, but then Carl Crawford (3 for 5) came up and sliced a ball down the line that left fielder Rajai Davis could not cut off, allowing Figgins to score the winning run all the way from first base and kick off the Dodgers' first on-field celebration of 2014.
[mlbvideo id="31931047″ width="400″ height="224″ /]
Not a bad time for a Tuesday night in April.