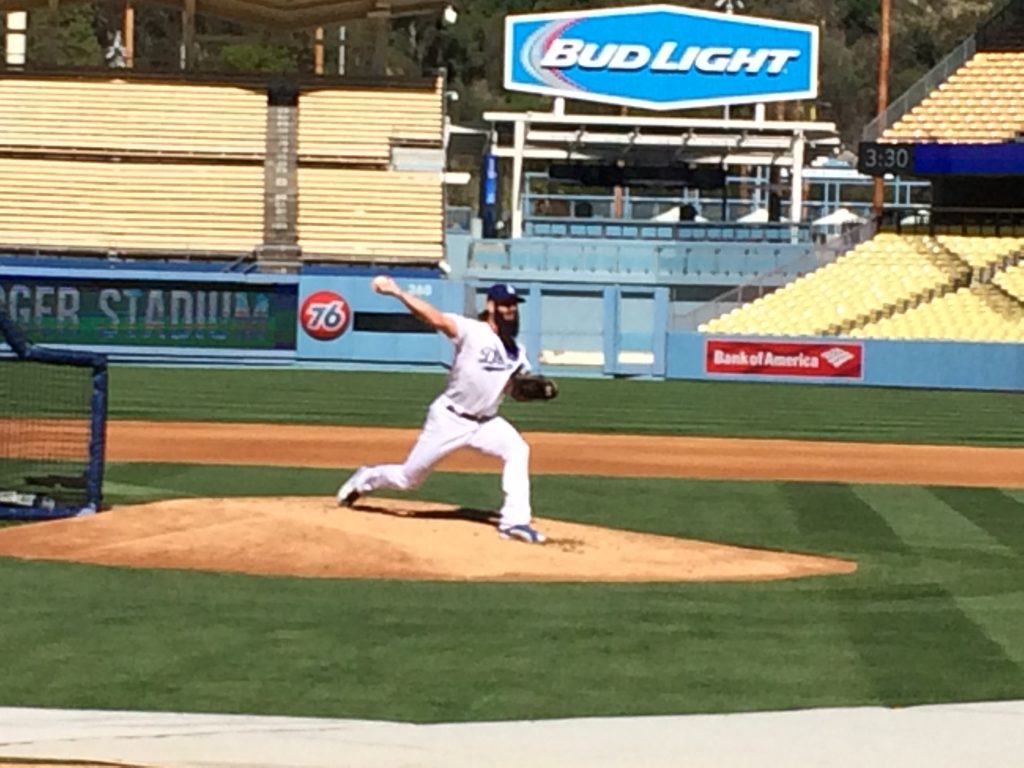 By Jon Weisman
Josh Beckett has officially come off the disabled list to pitch tonight's game for the Dodgers against a player he was once in a trade with, Anibal Sanchez.
To make room for Beckett on the roster, Jose Dominguez was optioned to Albuquerque.
With Beckett's return, the Dodger pitching staff crowds up some more, and Dominguez's travels offer only a temporary respite.  Brian Wilson (left) marked his 10th day on the disabled list with a bullpen session of about 20 pitches off the Dodger Stadium mound today.
Beckett is not expected to have a long first outing, Don Mattingly said, adding that Paul Maholm would be available out of the bullpen tonight.
What else can I tell you?
Tigers at Dodgers, 7:10 p.m.
Dee Gordon, 2B
Carl Crawford, LF
Hanley Ramirez, SS
Adrian Gonzalez, 1B
Andre Ethier, RF
Matt Kemp, CF
Juan Uribe, 3B
Tim Federowicz, C
Josh Beckett, P
"The sensation that Dodgers right-hander Chad Billingsley felt while pitching Sunday in a rehab start was scar tissue breaking in his surgically repaired elbow and not a major setback in his comeback from Tommy John surgery," reports Earl Bloom for MLB.com.
Tuesday's showdown between Kenley Jansen and Miguel Cabrera has been documented by Grant Brisbee of SB Nation as "the best at-bat in MLB so far" in 2014, while for Tim Brown of Yahoo! Sports, it was a reminder of "what makes baseball great."
A.J. Ellis is celebrating his 33rd birthday today by beginning his rehab from Tuesday's knee surgery.
Homerless streaks are in the news because of Kansas City's early season drought. As Joe Posnanski notes for Hardball Talk, the 1963 and 1967 Dodgers had some of baseball's biggest season-opening homer droughts.
Briefly a Dodger Seth Rosin was designated for assignment by Texas. Rosin pitched in three games for Texas, allowing no runs in three innings across his first two, then three runs in one inning on Monday.