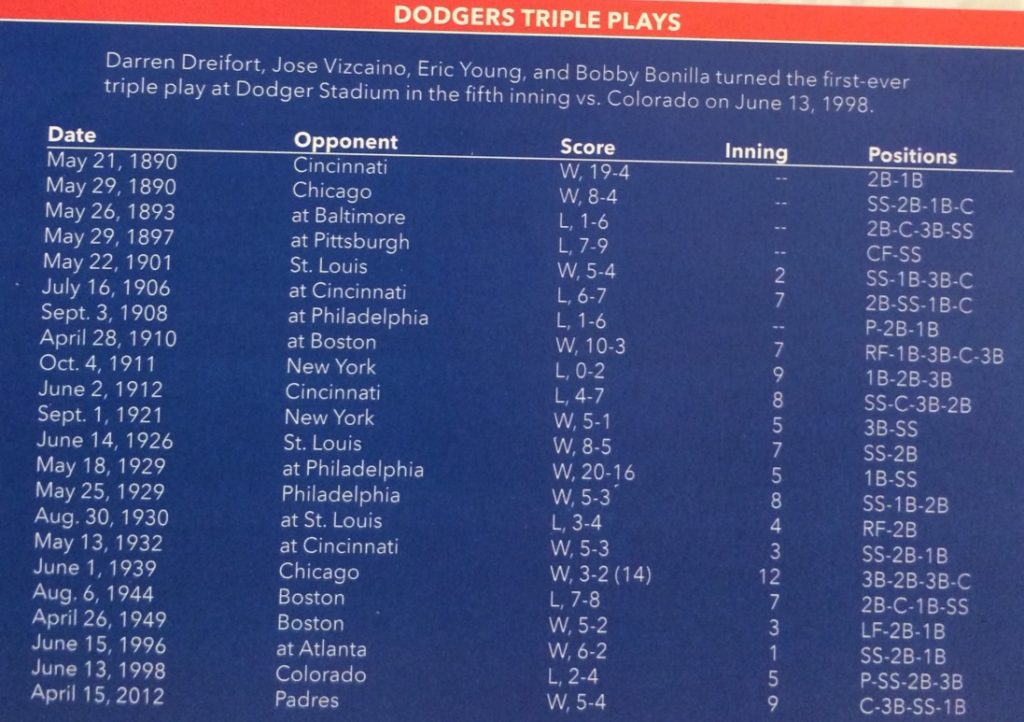 By Jon Weisman
In Monday's 4-0 loss to Washington, the Dodgers came within a hair of turning a triple play — a straight-arrow, around-the-horn, 5-4-3 triplet-killing.
It would have been the Dodgers fourth triple play since moving to Los Angeles. The franchise had 19 triple plays in Brooklyn, including two within eight days of each other, May 21 and 29, in its inaugural NL season of 1890 (wins No. 11 and 17 of 10,003 so far). However, the Dodgers then went without a triple play from 1949 until 1996.
In the first inning at Atlanta on June 15, 1996, Chipper Jones hit a pop fly deep behind shortstop. Juan Castro caught it, threw to Delino DeShields at second base to double up Marquis Grissom, and Grissom threw to Eric Karros at first base to triple up Mark Lemke.
Then on June 13, 1998, Los Angeles turned its second triple play, when Darren Dreifort fielded a fifth-inning bunt by Kurt Abbott that landed in front of the mound, starting a chain reaction that retired the two runners on base. One of those retired on the play was Colorado's 23-year-old starting pitcher, Jamey Wright. The throws went from Dreifort to shortstop Jose Vizcaino to force Perez, then to Eric Young at first base to retire Abbott, and finally across the diamond to Bobby Bonilla at third base to tag out Wright.
Colorado wasn't too happy about a triple play that wouldn't have happened if the infield fly rule could have been applied, but the most recent Dodger triple play, on April 15, 2012, was far more controversial.
[mlbvideo id="20659155″ width="550″ height="308″ /]
At the time, I wrote about the debate over this triple play at Dodger Thoughts.