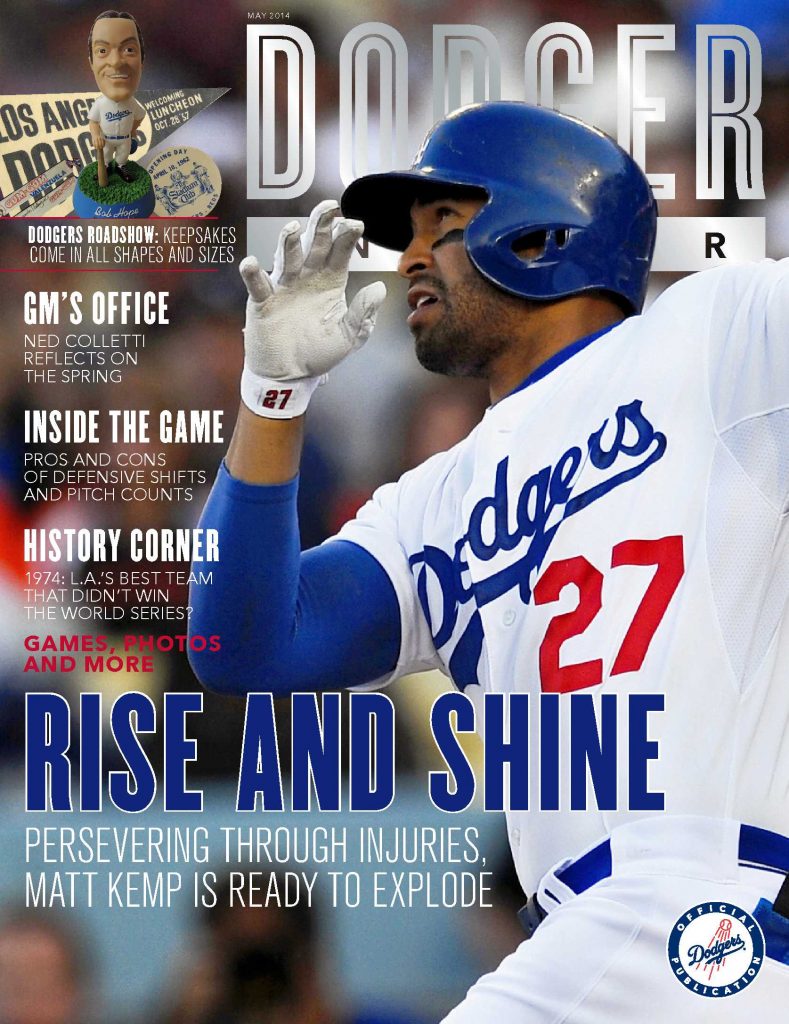 By Jon Weisman
First, a word to Dodger Insider subscribers. I have recently heard that confirmation e-mails have said that it only takes two weeks to process a subscription order. The reality is that it normally takes four to six weeks  — that's a timeframe common to the magazine industry, particularly for a monthly. In other words, if you ordered your subscription in late March or early April, your subscription would begin with the May issue, as was noted last month. (I'm having the wording on the confirmation e-mails adjusted.)
Also please note that these issues are timed to be printed for the first home game of the month. With the Dodgers not playing their first home game of May until tonight, that created the possibility of a later timetable for the May issue.
That being said, I still want to apologize for the tardiness of this month's delivery. There was a timing issue that cost us about eight days in the delivery cycle. I understand your frustration, and I really do appreciate your patience. Believe me — no one is more eager than me to get every issue of Dodger Insider in your hands. But the issue is coming. And I have taken steps to make sure the June issue is delivered in as rapidly as possible.
If you have any subscription issues or questions, please call the magazine's subscription fulfillment center at (877) 258-3062. If for some reason that doesn't help, please leave a message in the comments section of this post. I am bookmarking it and will check it daily.
To order the magazine, either in print or digital form, you can visit our magazine page. And of course, it's available for sale throughout Dodger Stadium.
* * *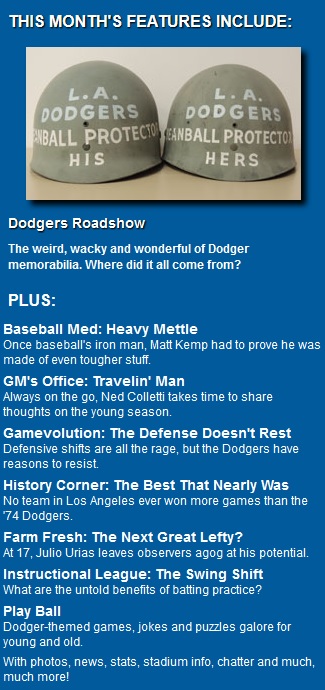 With that out of the way …
The May issue of Dodger Insider has several great features, including our cover story that examines in-depth the challenges Matt Kemp faced in coming back from his many serious injuries. Kemp, who before play Thursday had exactly 100 at-bats, a .250 batting average and .800 OPS, isn't quite where he wants to be, but the power remains encouraging — and rather remarkable given all he's been through.
Among the other news and feature stories are an interview with Dodger general manager Ned Colletti, analyses of defensive shifts and pitch counts (the latter by Mike Petriello of Dodgers Digest), a feature on 17-year-old pitching prodigy Julio Urias, a 40th-anniversary retrospective on the 1974 Dodgers — the winningest team in Los Angeles history — and much, much more.
As always, the magazine showcases the great photography of Jon SooHoo, Juan Ocampo and Jill Weisleder, and also has numerous fun games and challenges for kids ages 1 to immortal.
But the real treat of this month's issue is "Dodgers Roadshow," where Dodger team historian Mark Langill takes us through nearly a century of strange and wonderful Dodger memorabilia, most of which I expect you've never seen before much less imagined. It's really fun stuff.
If you haven't subscribed yet, please do, because there's more to come in June and beyond.