By Jon Weisman
Ten years ago tonight, Alex Cora stepped into the batters' box in the bottom of the seventh inning against Matt Clement of the Cubs.
You could be excused for thinking that 10 years went by before he stepped out.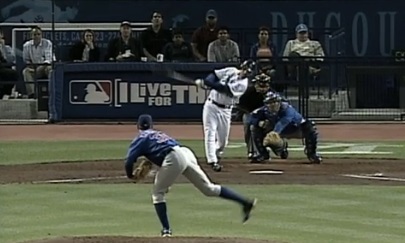 It was an at-bat for the ages — 14 foul balls, 18 pitches in all. And it ended as dramatically as you could ever have hoped, with a two-run home run that sent a frenzied Dodger Stadium crowd over the moon.
"That's one of the finest at-bats I've ever seen," an exhilarated Vin Scully exclaimed afterward.
Cora, now an ESPN and ESPN Deportes analyst living in Puerto Rico, the general manager of Criollos de Caguas and the proud father of a daughter who was born not long before this memorable night, joked in a phone conversation last week that Scully wasn't so approving when he came up to bat on that May evening in 2004 with the Dodgers leading, 2-0.
"Alex Cora, 0 for 2 with two fly balls," Scully said. "So when you don't have power, a couple of fly balls is pretty much wasted opportunity."
Said Cora: "It always makes me laugh."
Facing Clement with obscure but memorable Dodger outfielder Jason Grabowski on first base, Cora actually took the first three pitches, working the count to 2-1. He fouled off the next, taking the count to 2-2.
And that's the way it stayed for the next 13 pitches. Cora fouled them all off, not even reaching ball three.
"From what I remember of the at-bat, I only had one thing in mind — to shoot the hole between first and second," Cora recalled. "I just kept rolling over, rolling over."
At first, it was of no moment. But then the mood of the crowd shifted, like a new campfire beginning to crackle and then rise.
"About halfway into the streak of consecutive foul balls Cora hit, the Dodger Stadium crowd started to take notice," I wrote at Dodger Thoughts 10 years ago. "As he reached double digits, a roar started to come with each swing. The scoreboard operator, not at all imprisoned from spontaneity, threw a running tally of the foul balls onto the big screen. Around foul ball No. 11, the crowd was rising to its feet. A cheer of 'Let's go, Cora!' sprung from somewhere and immediately swept the entire stadium."
Said Cora: "It was one of those things. I tried to execute a plan to perfection. I joked that I missed 14 pitches down the middle, couldn't put it in play."
In seriousness, Cora was rising to the challenge.
"I was getting more into it mentally," he said. "The more the at-bat kept going and the fans were getting into it, I think it was more like, 'I'm not gonna get beat.'  … It looked like I got more focused through that at-bat. Sometimes I wonder (what) if I would have had that focus in all the at bats of my career. It's something you think about."
Scully's enthusiasm grew with the crowd's.
"It is a rare time that you can be at the ballpark, and everyone is counting the pitches," he said. "It's kind of special.
"You ever see so much excitement — and nothing has happened? That's really what's so funny about it."
The 17th pitch was a grounder down the right-field line, foul "by a hair," as Scully said.
Still, Cora was probably about as surprised as anyone about the final result. "I wasn't expecting a home run," he recalled. "I was expecting a base hit."
But then, with the volume turned to 11 and the drama to 18, it came, accompanied by the quintessential Scully call of a "high fly ball to right field." It was gone.
Scully seemed utterly stunned.
"What a moment! 9:23 on the scoreboard, if you want to write it down for history. What an at-bat!" Scully exclaimed. "That's one of the finest at-bats I've ever seen, and to top it off with a home run, that is really shocking."
It was unforgettable, perhaps unfairly overshadowing the rest of the slick-fielding infielder's career. "A lot of people," he said, remind him of the at-bat. But he doesn't seem to mind too much.
"I wasn't the greatest hitter, so an at-bat like that, that's always going to be one of the highlights of my career," Cora said. "I don't brag about it – it's cool that it happened. But it's not something that defined my career."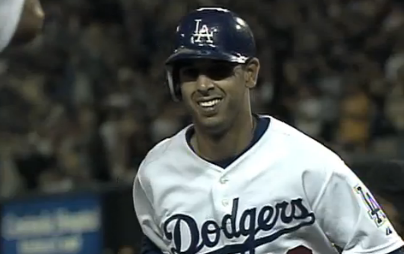 The story has a postscript. Cora said that when he came to the ballpark the next day, he was sore in his jaw and his face, probably from all the tension. But he was back in the lineup, facing the Cubs' Carlos Zambrano. His first time up was lengthy enough by normal standards: a few fouls, leading up to the sixth pitch from Zambrano.
"I got drilled," Cora said. "I tried to tough it out, but I had to come out of the game. He hit me at 97 (mph) on the elbow."
Postscript No. 2: On December 22, 2004, Clement left the Cubs for a free-agent deal with the Boston Red Sox. Seven months later, the Red Sox traded Ramon Vazquez to Cleveland … for Cora. Barely a year they faced off for 18 memorable pitches, Clement and Cora were teammates.
"It was funny," Cora said. "He was saying, 'I don't know what was the hardest part — you fouling off all those pitches or me throwing all those strikes.' "