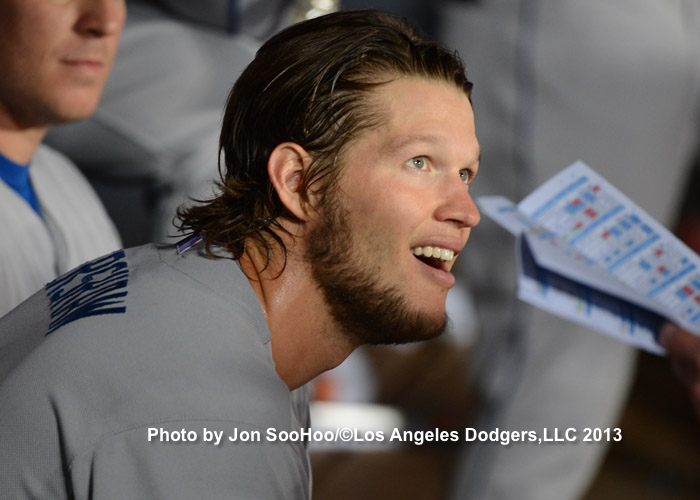 By Jon Weisman
Clayton Kershaw has been many things so far in his young career, but a no-hit pitcher isn't one of them.
In fact, given his dazzling stuff, it's remarkable how rarely he has threatened to throw a no-no, and how rapidly he usually loses them.
In 192 career starts, including the postseason, Kershaw has taken a no-hitter past the sixth inning only once. Nolan Ryan finished nine innings without allowing a hit more times than Kershaw has finished five innings.
The breakdown to date of when Kershaw has lost his no-hit bids:
First inning: 102 times
Second inning: 45 times
Third inning: 23 times
Fourth inning: 17 times
Fifth inning: three times
Sixth inning: once
Seventh inning: none
Eighth inning: once
What follows is a brief history of Kershaw's hitful wonders …
2008: Setting a precedent, Kershaw's rookie season almost completely free of no-hit drama. In 19 starts, he gave up a hit in the first inning 16 times, and only once went past the third inning before allowing a hit, making it all the way to the fifth inning on September 2.
2009: Despite moving up to 30 starts (plus two more in the postseason), he only took a no-hitter past the fourth inning once. But it was a good ride – on May 17, he made it until the eighth before giving up a leadoff double to Florida's Cody Ross (the same guy he walked twice in one inning at Arizona last weekend). Kershaw had walked four that game and thrown 112 pitches, so the double probably saved manager Joe Torre a dilemma.
It was the second time that season Kershaw pitched seven innings of one-hit ball – on April 15, the only hit he allowed was a second inning home run by San Francisco catcher Bengie Molina.
2010: This year was a real snooze for the no-hit watch. Amazingly for a pitcher with a 2.91 ERA, Kershaw did not throw a perfect first inning until his 27th start of the season, on August 27. Not all of those first innings were spoiled by hits, but he did allow first-inning hits in 19 starts, took a no-hitter into the third inning only five times and never once made it out of the fourth inning unscathed.
2011: Kershaw made things more interesting only on the smallest scale in year four. He managed to reach the third inning without allowing any his 13 times, but again didn't once make it to the fifth hitless. His low-hit complete game, on May 29, was a two-hit shutout, allowing hits in the third and seventh innings while walking one. (He did take a one-hitter into the sixth inning on September 14, but was ejected after hitting Gerardo Parra with a pitch.)
2012: A Cy Young Award-winning season didn't change Kershaw's no-hit dynamic. It was another year of 33 starts, and another year of not taking a no-hitter past the fourth inning.
Through his first five MLB seasons, Kershaw had allowed a hit within the first four innings of 149 out of 151 starts and made it past the fifth one time.
2013: Breakthrough! Kershaw made it all the way to the sixth inning on May 3 before Marco Scutaro tripled. He also took a no-hitter into the fifth on August 11 and, for the first time in his career, a perfect game into the fifth in his next start, on August 17, retiring the first 12 batters before Phillies outfielder Domonic Brown singled to center.
2014: On Opening Day in Australia, Kershaw lost a no-hitter in the first inning for the 100th time in his career. The only time in his four starts this season that he pitched a perfect first inning, he allowed seven hits in the second inning.