[mlbvideo id="33312339″ width="550″ height="308″ /]
By Jon Weisman
As we close out the second month of the season, it's common knowledge that Dee Gordon has declined at the plate in May from his hot April start.

At the same time, his defense continues to blossom, as you can see from the video above, where he makes the kind of play you've rarely seen any Dodger second baseman make.
And his basestealing, always precocious, has gone supersonic. Gordon has stolen 15 consecutive bases without being caught and 21 out of 23 in 28 games this month to reach 100 for his career. He is on pace to steal 98 bases in 107 attempts this year.
So while Gordon is no slam-dunk National League All-Star, not with a veteran like Philadelphia's Chase Utley topping the statistical charts thanks in no small part to a .904 OPS and 147 wRC+, are any NL second basemen more dynamic or exciting than Gordon?
In other words, the same arguments that made the case for Yasiel Puig's inclusion on the All-Star team in 2013 (a case that is hardly undermined by Puig's smash performance in 2014) could also be used for Gordon.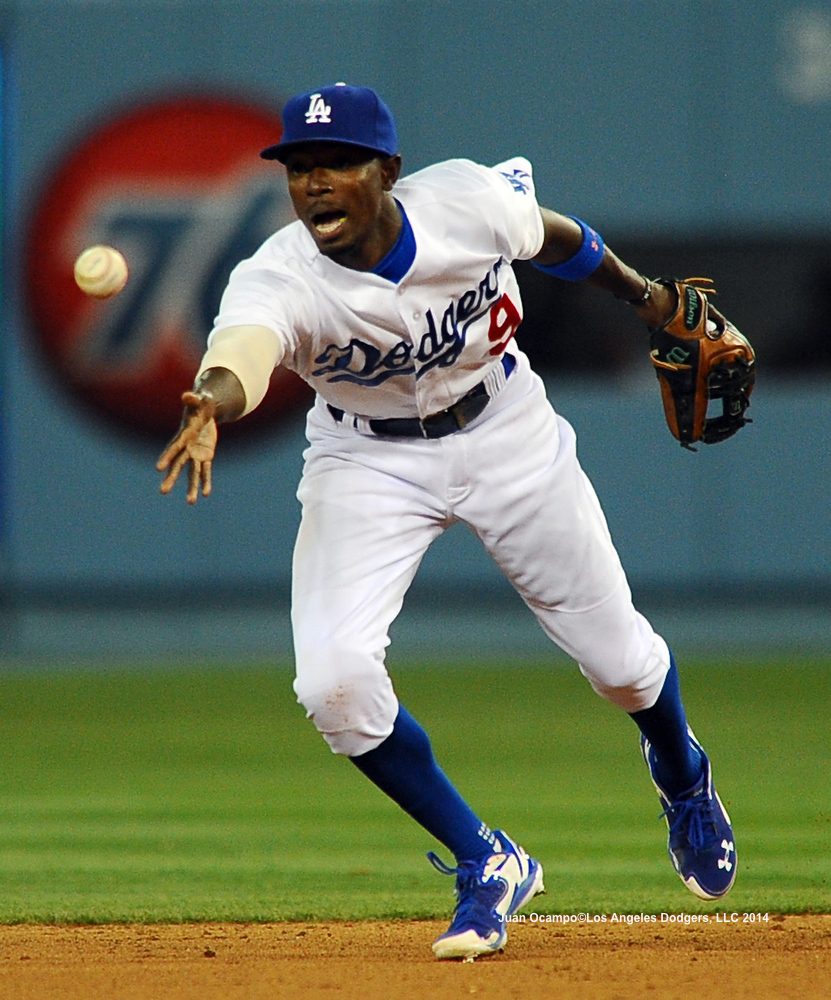 Let's look at the principal competition:
Matt Carpenter, an All-Star last year and a thorn in the Dodgers' 2013 NLCS side, was considered perhaps the top second baseman in the league following the 2013 season. But Carpenter has played mainly third base this year.
Brandon Phillips, a three-time All-Star including 2013, has a lower OPS+ (91) since the start of the 2013 season than Gordon (93) and five steals compared with Gordon's 44, though his glove rates higher.
Daniel Murphy has been Gordon's Wins Above Replacement equal in 2014 according to Fangraphs, improving upon a 2013 season in which his OPS+ was 108 in 161 games. But Gordon remains the better offensive player in 2014, and dimensionally better on the bases.
Neil Walker has been the Third-best offensive second baseman in the league behind Utley, but rates as the worst glove among regulars at the position this year.
Anthony Rendon, fourth in the NL All-Star vote at second base so far this year, has only played 13 games at the position in 2013 – the rest at third base.
There's going to be a lot of talk that Gordon's success is too new, too recent, to be deserving of a spot on the All-Star team. There's also a lot of baseball to be played between now and the first week of July, when the selections are announced.
But in the "This time it counts" era of All-Star play, I don't see a strong argument right now that Gordon doesn't deserve a spot on the NL squad. What a weapon he would be, and what excitement could he bring.