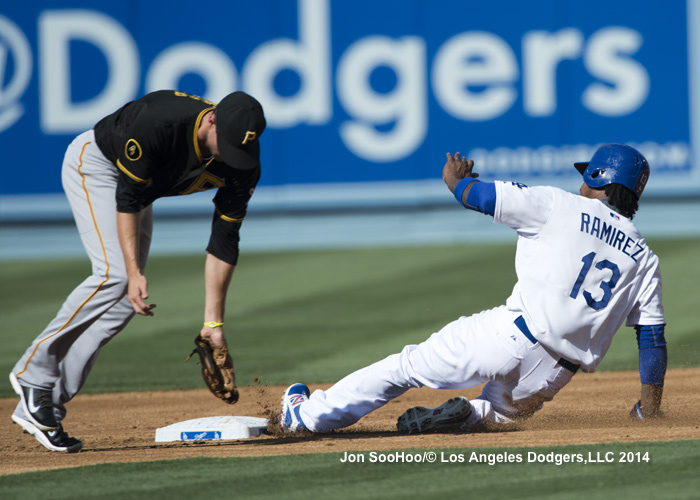 Saturday's Jon SooHoo photo highlights can be found at LA Photog Blog.
Pirates at Dodgers, 5:10 p.m.
Dee Gordon, 2B
Andre Ethier, CF
Yasiel Puig, RF
Hanley Ramirez, SS
Adrian Gonzalez, 1B
Matt Kemp, LF
Justin Turner, 3B
Drew Butera, C
Zack Greinke, P
By Jon Weisman
We're going full notebook for today's pregame report: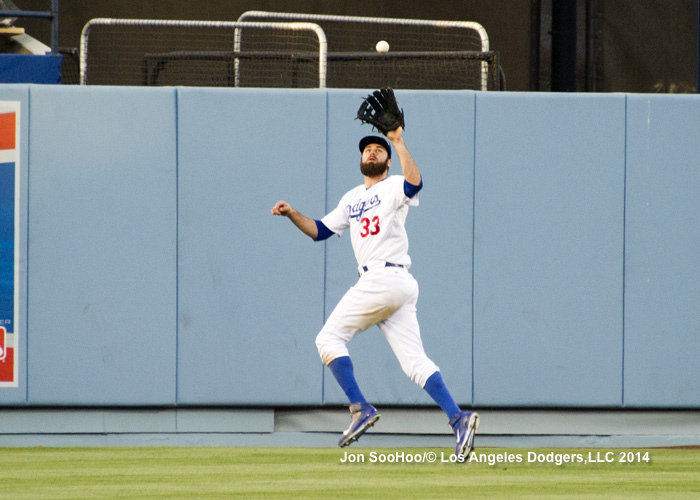 After striking out 8.5 times per game in March/April, Dodger batters reduced that figure to 7.2 in May. The team remains on pace for 1,268 strikeouts this year, which would break the 18-year-old franchise record by 78.
With 66 steals, the 2014 Dodgers have already stolen more bases than past Dodger teams including the 2005 squad. They're on pace for 188 steals, which would match the best total by a Dodger team since 1913.
The Dodgers led the NL in runs in May, according to the Dodgers public relations department, scoring 139 times in 30 games (4.6 runs per game).
Tonight's national broadcast on ESPN should be interesting, notes Dodgers PR:


ESPN's Baseball Tonight will be broadcasting live from Lot B outside the left field Reserve level tonight from 4:00 p.m.-5:00 p.m., leading into tonight's national telecast, and fans are encouraged to gather near the set to watch the broadcast. ESPN's coverage tonight will feature seven analysts strategically placed throughout the ballpark where they can capture all of the storylines happening during the game. Karl Ravech and Barry Larkin will be stationed in the TV booth leading the seven-way conversation among the analysts. Buster Olney will share news and information updates from the press box, while Eric Wedge will talk on big-picture strategy from behind home plate. Aaron Boone and Eric Wedge will highlight the offense and pitching, respectively, from the dugout wells and Doug Glanville will tackle the defense from the right-field pavilion.

Yasiel Puig, who has reached base in 31 straight games, tied Willie Davis' 1971 Los Angeles record for hits in the month of May with 43. Jackie Robinson had 49 hits in May 1949. (Dodgers PR)
Puig is one of baseball's most shift-proof hitters, according to Jayson Stark of ESPN.com (via Sons of Steve Garvey).
At Dodgers Digest, Chad Moriyama finds insight into Ramirez's performance against fastballs.
Approximately 650 high school baseball players and coaches from 24 Los Angeles area schools that participated in the 5th annual Dennis Gilbert Spring Baseball Classic, April 5-19, at the MLB Urban Youth Academy in Compton will attend today's game, courtesy of Gilbert.
Jon Garcia of Single-A Rancho Cucamonga homered in his first three at-bats Saturday.
Edinson Volquez faces the Dodgers for the first time since leaving the team following the 2013 season. The last time, Volquez walked seven in 5 2/3 innings of a 6-1 loss to the Dodgers on June 22 – the start of the Dodgers' 42-8 run. The previous September, he shut out the Dodgers over seven innings.
The Chicago White Sox plan to activate rookie slugger Jose Abreu from the disabled list in time for the start of their series Monday against the Dodgers.
Chad Billingsley is scheduled to pitch a simulated game Tuesday, with an eye toward a rehab start Saturday, reports J.P. Hoornstra of the Daily News.
Our best wishes to Mike Brito and his family following the passing of his wife, Rosa.