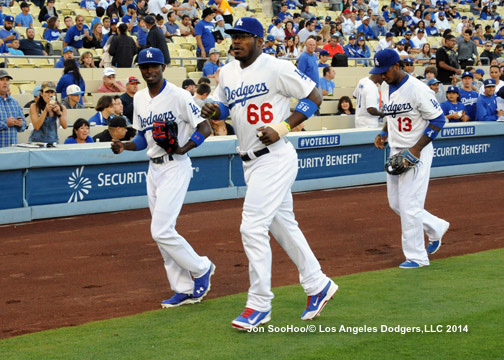 By Jon Weisman
On the anniversary of his arrival in the Major Leagues, Yasiel Puig has risen from fifth place to first in the latest update of National League All-Star balloting — thanks to more than 500,000 votes in less than a week.
Now with 935,276 votes, Puig is currently in the outfield lead with Colorado's Charlie Blackmon (883,186) and Miami's Giancarlo Stanton (863,307). Andrew McCutchen and Ryan Braun, who were second and third in the previously announced vote tally, are now fourth and sixth.
Puig, who added more than 550,000 votes since the May 28 announcement, has joined first baseman Adrian Gonzalez among the positional leaders for the July 15 game.
[mlbvideo id="33394835″ width="400″ height="224″ /]
Second baseman Dee Gordon has solidified his hold on second place in the NL vote at that position, behind Philadelphia's Chase Utley. (We discussed Gordon's worth among NL second basemen on Saturday.) Shortstop Hanley Ramirez remains in fourth place, while injured Juan Uribe has slipped to fifth place at third base.
In addition to paper ballots available at the ballpark, online voting for the All-Star Game continues at MLB.com through July 3. You can vote up to 25 times, and 10 more if you are logged in with an MLB.com account. All-Star teams, with reserves determined by a combination of player votes and selections by the All-Star managers, will be announced July 5-6. The vote for the 34th spot on each league's roster will begin immediately thereafter.