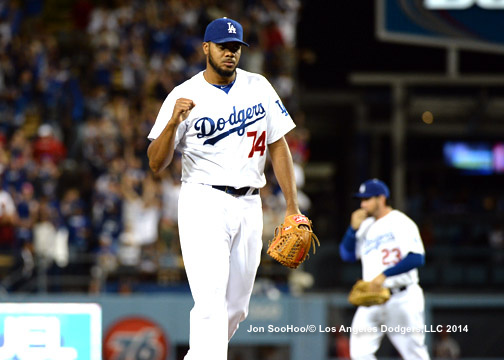 By Jon Weisman
It's July 4, so let's take a look at the only active Major Leaguer to wear the patriotic number 74* – Curacao's own Kenley Jansen.  (We'll pretend we don't know that Jansen chose that number to match his house number in his homeland.)
Spoiler alert: What looks like the Dodger righty's worst season might actually be his best.
Jansen has never been an All-Star and isn't expected to be one this year, not with a 3.79 ERA clouding his candidacy. This is so even though Jansen only one save behind National League leader Francisco Rodriguez.
Nine of the past 10 seasons, a player leading or sharing the NL lead in saves at the All-Star Break has made the All-Star team, all the way to 2013's Jason Grilli, who had five saves in 12 years before last season and was dumped to the Angels days ago.
NL Saves Leaders, 2004-13, first half
2004-Danny Graves (All-Star)
2005-Chad Cordero (All-Star)
2006-Jason Isringhausen
2007-Francisco Cordero (All-Star)
2008-Brian Wilson (All-Star)
2009-Heath Bell (All-Star)
2009-Francisco Rodriguez (All-Star)
2009-Brian Wilson
2010-Heath Bell (All-Star)
2010-Francisco Cordero
2011-Craig Kimbrel (All-Star)
2012-Craig Kimbrel (All-Star)
2013-Jason Grilli (All-Star)
But let's move past dubious measures of value like saves, and catch up with how Jansen's really doing.
Jansen's ERA is a career worst, but is he having a career-worst season? Let's look at his three previous full seasons in the Majors compared to this one.
Kenley Jansen, 2011-14 (best marks in bold)

His fielding independent ERA is not only the best of his career, it's the fourth-best in the NL, behind only Aroldis Chapman, Clayton Kershaw and (go figure) Zach Duke. From that stat alone, you can easily make the argument that Jansen deserves more praise and an All-Star spot.
Jansen is also sixth among NL relievers in Wins Above Replacement, which should put him on the border of the All-Star team, depending on how many starters go (ultimately, I'd tilt in favor of more starters, but that's another conversation).
Somehow, his ERA itself is nearly twice last year's. With his homer, walk and strikeout rates all within career norms, the startling difference is easily explained by that ridiculously enlarged batting average on balls in play – third-highest in the NL among pitchers with at least 25 innings.
Jansen is the only player in the NL BABIP top 20 with an opponents' OPS below .700, so he has done well to minimize the damage against him. But how responsible is he for it?

To translate this click-to-enlarge Fangraphs chart (and this glossary will explain each column for you):
Jansen is generating more swings (Swing%) than ever before, both inside (O-Swing%) and outside (Z-Swing%) the strike zone.
He is pounding the strike zone (Zone%) more than ever, with more first-pitch strikes (F-Strike%) than ever.
But the contact batters are making inside the strike zone (Z-Contact%) is actually the worst since 2011. They are flat out swinging and missing (SwStr%) like never before.
The one area batters have had increased success against Jansen is where you might least expect it. Not since 2010, his rookie half-season, have batters made better contact on pitches outside the strike zone (O-Contact%) than this year.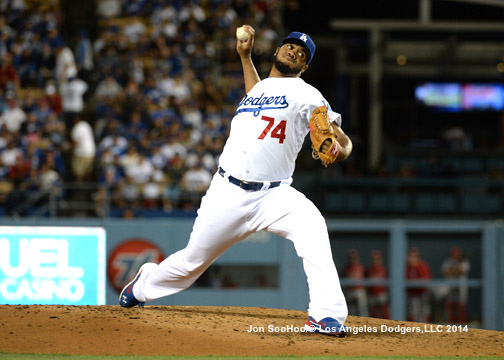 That, combined with the balloon-sized BABIP, strongly hints that Jansen has simply had some tough breaks in a year that he's arguably been at the best in execution … unless you think Jansen needs to pitch worse to pitch better.
In 39 appearances this year, Jansen has three losses, plus two additional blown saves (one blown save came in a loss). He has caused Dodger fans to hold their breath on other occasions, and even Thursday in Colorado, after retiring the first two batters on four pitches, he came uncomfortably close to giving up a game-tying home run. Every time someone scores against him, Twitter goes crazy with calls for his closing head.
But even putting aside the unrealistic expectation many fans have for perfection from their relievers, people do seem to be missing the boat on Kenley Jansen 2014. This might be his most disappointing season in terms of results, but in terms of performance, it actually might be his most impressive. Whatever it is, it's worth appreciating.
* Jansen is one of five players in MLB history to wear No. 74, including his current teammate, J.P. Howell. Jansen has worn the number longer than anyone ever.