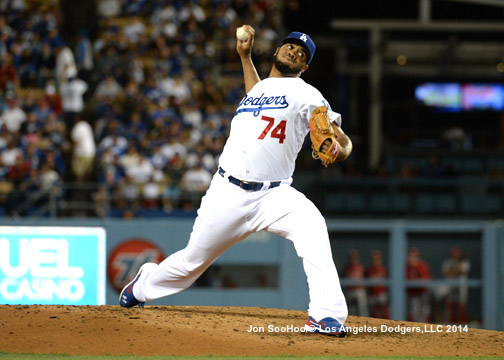 Padres at Dodgers, 7:10 p.m.
Kershaw CXCVI: Kershawll About Eve
Dee Gordon, 2B
Hanley Ramirez, SS
Yasiel Puig, RF
Adrian Gonzalez, 1B
Matt Kemp, LF
Scott Van Slyke, CF
Juan Uribe, 3B
A.J. Ellis, C
Clayton Kershaw, P
By Jon Weisman
A closer's workload can always fluctuate, and rarely can you see it illustrated better than the example of Kenley Jansen.
We're on the 10th day of July, and Jansen has thrown all of eight pitches this month, retiring all three batters he faced July 3 at Colorado. The only other late-inning, small lead the Dodgers have had in July was when Cleveland scored three runs in the eighth inning July 2.
Jansen's last appearance before that was another perfect inning June 30, at the end of what at the time seemed like a light month for him: 151 pitches.In April, when the Dodger starting pitching was struggling to pitch deep into games, Jansen threw 257 pitches, followed by 171 in May.
Since June 21, Jansen has faced 19 batters in six innings, allowing two singles and no walks while striking out eight. One runner was caught stealing.
Here's another stat for you: In the past 20 days, Jansen has thrown 16 pitches out of the strike zone.
Whatever Jansen does this weekend, he'll have at least four days off next week, unless he somehow becomes an injury replacement for the National League All-Star Team — which, as we pointed out last week, would easily be justified.