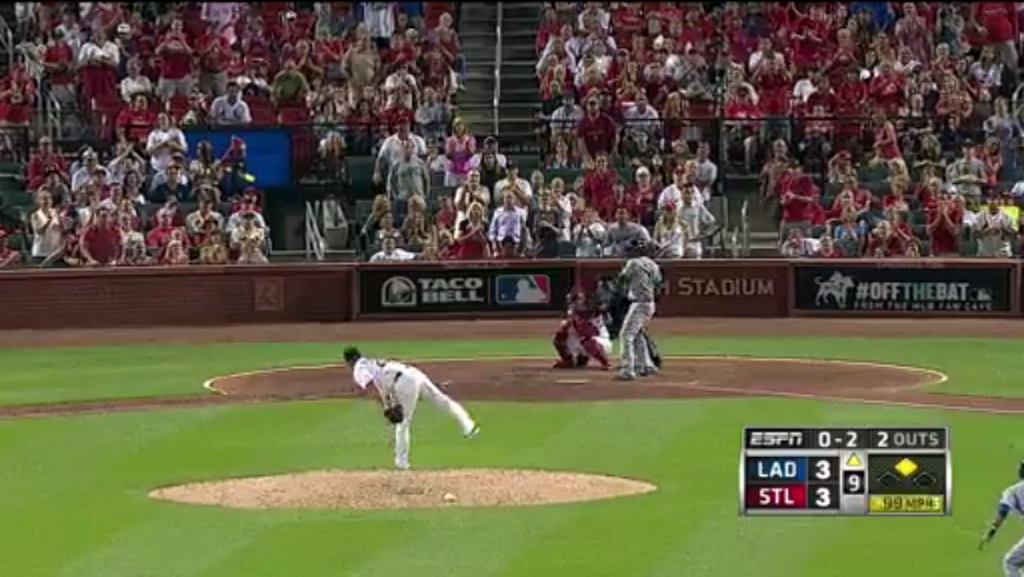 By Jon Weisman
In their most emotional game of 2014, the Dodgers prevailed over St. Louis on Sunday, 4-3.
It was a game in which 2013 National League Championship Series hit-by-pitch victim Hanley Ramirez was drilled two more times by Cardinal pitchers, a day after Yasiel Puig was knocked out of action by an HBP. The latest one, which came in the ninth inning that saw the Dodgers deliver the tiebreaking run, looked serious enough to sideline Ramirez himself, but we're awaiting reports as this was being published.
Ramirez was hit by an 0-2 pitch, which is a count that I've always found exonerated the pitcher (in this case, Trevor Rosenthal) from intent. You're just too close to an out, especially in a tie game in the ninth, to give up a base voluntarily. It's the same reason that I never felt Zack Greinke was trying to hit Carlos Quentin with his 1-2 pitch in early 2013.
Many Dodger fans online might not agree. In any case, the damage the Cardinal pitchers have been inflicting in the past nine months has been fairly ridiculous, which is why you can imagine Matt Holliday couldn't have been too surprised by Clayton Kershaw's first HBP of the year to start the bottom of the fourth.
Kershaw, whose efforts included his first career stolen base, eliminated Holliday from the basepaths on his very next pitch, thanks to a 4-6-3 double play, and seemed thoroughly in control, taking a 3-1 lead into the bottom of the sixth. But Matt Carpenter, a thorn in his side with an 11-pitch at-bat in NLCS Game 6 last October, worked a 10-pitch walk, and the next batter, Peter Bourjos, hit a game-tying homer.
That evened the game and left Kershaw (seven innings, six hits, one walk, eight strikeouts) with a no-decision after winning eight consecutive starts. The tie was broken in the ninth by Adrian Gonzalez, who stranded two runners with two out in the seventh but this time delivered an RBI single that scored Miguel Rojas, pinch-running after A.J. Ellis led off the inning with a double.
Kenley Jansen retired the side in order on 12 pitches to close out the game.