[mlbvideo id="34680617″ width="550″ height="308″ /]
By Jon Weisman
Intentional? No. Irresponsible? That's another story.
That was the sentiment from the Dodgers after Sunday's roller-coaster 4-3 victory.
Adrian Gonzalez, who had the game-winning hit Sunday for the Dodgers, starting pitcher Clayton Kershaw and manager Don Mattingly talked about the key events.
From Alex Halsted of MLB.com:
"Your first emotion is to hit a home run and stand at home plate and do all that stuff," Gonzalez said. "You tell yourself, 'The minute you try to hit a home run, you're just going to get yourself out.' You just have to try to stay within yourself and try to get a hit, because that's all we needed.
"We didn't want to get out of here being swept. For me, it was tough to not let my emotions take over and try to over-swing and try to hit a home run, because we still need to win the game."
More from Halsted, with Gonzalez talking about Hanley Ramirez twice getting hit by pitches, the last time in the ninth.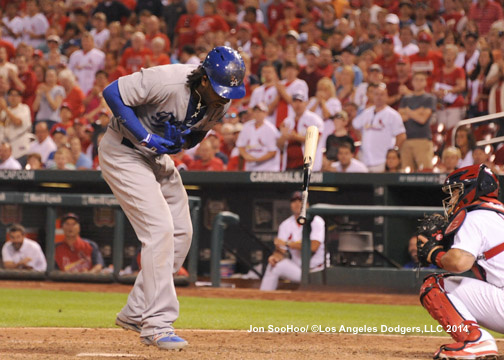 "One thing is pitching inside and another thing is pitching inside carelessly. They're obviously showing that they don't care if they hit him. They're not on purpose, but they don't care if they hit him. They hit Hanley last year, they hit [Yasiel] Puig yesterday, they hit Hanley twice today. It's almost like, 'Hey, we're going to throw it inside. If we hit you, we hit you. If we don't, we don't.'
"There comes a point where it's enough," Gonzalez added.
Said Mattingly: "Everybody is trying to pitch in, everybody has to pitch in. Really, at some point, if you can't pitch in without hitting people, then your guys are at risk, too. That's kind of the way that goes. We're going to protect our guys, we've always done that."
And this from Kershaw:
"It's tough when you see Hanley get hit like that so many times," Kershaw said. "It's one thing to miss in, but when you're missing up and in, that's really scary. I'm pretty sure he wasn't doing it on purpose, but when you throw that hard, you need to have a better idea where the ball is going on the inner half of the plate."
[mlbvideo id="34680329″ width="550″ height="308″ /]
On Kershaw hitting Matt Holliday:
"That's the way to do it," Gonzalez said. "He wasn't doing it to a point where he's putting Holliday's career at risk. He wasn't going after his head or his upper body."
[mlbvideo id="34680353″ width="550″ height="308″ /]