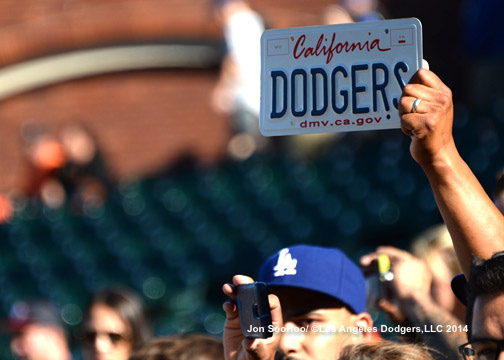 For more Jon SooHoo highlights from Friday, visit the LA Photog Blog.
Dodgers at Giants, 7:15 p.m.
Kershaw CXCVIII: The Kershawcial Network
Dee Gordon, 2B
Yasiel Puig, CF
Adrian Gonzalez, 1B
Hanley Ramirez, SS
Carl Crawford, LF
Matt Kemp, RF
Juan Uribe, 3B
A.J. Ellis, C
Clayton Kershaw, P
By Jon Weisman
With first place in the National League West at stake, Ryan Vogelsong is taking tonight's start for the Giants against the Dodgers  and Clayton Kershaw as planned, but a big change looms for Sunday.
San Francisco has picked up Jake Peavy from Boston for two prospects, and the right-hander is expected to arrive in time to take the mound in 24-ish hours against Los Angeles and Hyun-Jin Ryu.
The 33-year-old Peavy, the starting pitcher in the 4+1 game for the Padres against the Dodgers nearly eight years ago, has an ERA of 3.90 in 14 games at AT&T Park and is a dominant 14-2 with a 2.21 ERA in 25 starts against the Dodgers. As recently as August 25 last season, Peavy pitched a complete-game three-hitter at Dodger Stadium, allowing one run on four baserunners while striking out five.
Peavy has been having something of a bizarre season for Boston this year, going 1-9 (won-lost record posted merely for gawking purposes) with a 4.72 ERA and an American League-high 20 homers allowed. The Giants are banking on AT&T Park helping with some of those fly balls.
Consistently inconsistent, Peavy  has neither had four consecutive quality starts nor four consecutive non-quality starts this season.
In the wake of Friday's game, I'll pass this along as well: Peavy has allowed three triples in 2014.
Footnote: To replace Peavy in their rotation, the Red Sox reportedly will call up former Dodger farmhand Allen Webster, who has a 3.10 ERA in Triple-A this year. He'll join Rubby De La Rosa in the Boston starting pitching quintet.