[mlbvideo id="34804359″ width="550″ height="308″ /]
By Jon Weisman
It took only two batters for the Dodgers to get their first triple of the night in San Francisco. Most games, that would be more than you'd expect.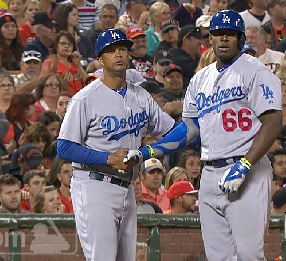 For Yasiel Puig and his teammates, it was only the beginning of many happy handshakes with third-base coach Lorenzo Bundy.
The Dodgers hit five triples in the first six innings at AT&T Park — three by Puig himself — shocking and knocking out Tim Lincecum on their way to a 7-0 lead with three innings to go.
The incredible night began with Puig's first-inning triple, which nearly became a home run after an official review studied whether fan interference had prevented it from going out of the park. Puig later scored on an Adrian Gonzalez single to take a 1-0 lead.
The game was a pitchers' duel through the fourth, with Lincecum matching Dodger starter Zack Greinke by striking out six batters on 67 pitches. (Greinke, in an event I'm embarrassed to make parenthetical, had a four-strikeout fourth third inning.) Puig had the Dodgers' only other hit, a third-inning double.
Then, after A.J. Ellis popped out to start the top of the fifth, things got wild.
Greinke singled, and then Dee Gordon blasted one to the gap in right-center. Greinke, running with better wheels than Josh Beckett did the last time Gordon had an extra-base hit with a pitcher on base, scored easily, and Gordon cruised into third. It was Gordon's 10th triple of the year, making him the first Dodger to hit double digits on triples since Kenny Lofton had 12 in 2006.
[mlbvideo id="34810057″ width="550″ height="308″ /]
Then Puig followed with his second triple of the game, making him the first Los Angeles Dodger ever to have two triples and a double in a game. No Dodger had done this since Sandy Amoros in 1956.
[mlbvideo id="34810077″ width="550″ height="308″ /]
If Puig's triple in the first had been ruled a home run, he'd have had four innings left with only a single needed for a cycle.
Another RBI single by Gonzalez — who now leads the National League in RBI with 67 — scored Puig to make it 4-0, and an ensuing single by Hanley Ramirez ended Lincecum's night on the mound …
… if not in the box score. Because after Carl Crawford lined out to first, Matt Kemp got in on the act, tripling to right center to score Gonzalez and Ramirez.
[mlbvideo id="34811415″ width="550″ height="308″ /]
Psychologically, the Dodgers avenged the three triples they allowed in the second inning of Clayton Kershaw's nadir start on May 17.
Are we done yet? Not quite, because after Gordon beat out a grounder to third for a hit and stole second, Puig, unbelievably, hit his triple trifecta, his third of the game and the Dodgers' fifth. Puig's three triples are the most by a Dodger in 113 years, since Jimmy Sheckard of Brooklyn in 1901.
[mlbvideo id="34812499″ width="550″ height="308″ /]
The five triples are the most by the Dodgers in a game since the team record was set on July 7, 1921 — against the Giants — if they don't hit any more tonight. And Puig's 11 total bases are also the most by a Dodger in a game without a home run ever — if he doesn't hit a home run before the night's over. He's the 50th Dodger since 1901 with at least 11 total bases in a game.
No Major League player has had more than three triples in a game since before 1901. The Major League record for a team is the eight by Pittsburgh at St. Louis on May 30, 1925. No Los Angeles Dodger team had ever had more than three triples in a game.
Players with at least three triples and a double in an MLB game (since 1914) Les Bell (1926), Herm Winningham (1990), Yasiel Puig (2014).
With 31 triples now in 2014, the Dodgers already had their most as a team for a full season since 2009. Gordon's 10 triples and Puig's eight this year give the Dodgers a shot at having a pair of 10-triplers for the first time since Maury Wills and Willie Davis in 1962.