After his two-hit shutout, @ClaytonKersh22 hung with aspiring P Cole Bourne, who recently had a brain tumor removed. pic.twitter.com/LEd26101BS

— Los Angeles Dodgers (@Dodgers) July 27, 2014
For more Jon SooHoo highlights from Saturday, visit the LA Photog Blog.
Dodgers at Giants, 5:05 p.m.
Dee Gordon, 2B
Yasiel Puig, CF
Adrian Gonzalez, 1B
Hanley Ramirez, SS
Carl Crawford, LF
Matt Kemp, RF
Juan Uribe, 3B
A.J. Ellis, C
Hyun-Jin Ryu, P
By Jon Weisman
In 2013, Hanley Ramirez arguably had the greatest offensive season ever for a Dodger shortstop.
You might have noticed that Ramirez has not been so fortunate this year.
You might not have noticed this:
In 2014, Hanley Ramirez is arguably having the second greatest offensive season ever for a Dodger shortstop.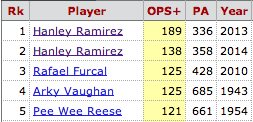 Ramirez's offense was so incredible a year ago that even with a noticeable decline, he's still producing at a rate that tops anyone else in the past 100-plus years. A .374 on-base percentage and .466 slugging percentage is nothing to dismiss.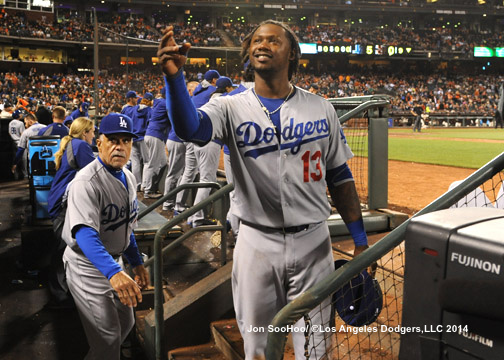 Of course, a key issue with Ramirez is remaining in the starting lineup. According to Baseball-Reference.com, Ramirez's had 79 runs created in 2013, placing him 14th in Dodger history. This year, Ramirez has 56 runs created in the Dodgers' 105 games (he's played in 88), putting him on pace for 86 in a 162-game season. That would place him in the Dodger top 10.
Wrote Eric Stephen of True Blue L.A.: "Ramirez has started only 34 of the last 51 games, exactly two-thirds, but he has reached base by hit or walk in all 34 starts, overall hitting .333/.448/.513 with nine doubles, four home runs and 26 RBI during that span."
The defense isn't always pretty. Ramirez doesn't play every day. But when he does, the bat is still amazing.