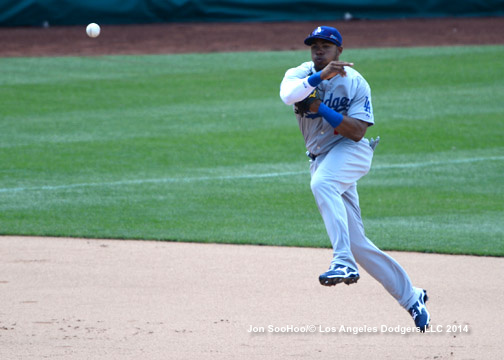 Padres at Dodgers, 7:10 p.m.
Dee Gordon, 2B
Yasiel Puig, CF
Adrian Gonzalez, 1B
Matt Kemp, RF
Carl Crawford, LF
Justin Turner, 3B
Erisbel Arruebarrena, SS
A.J. Ellis, C
Kevin Correia, P
By Jon Weisman
In an exchange of backup shortstops, the Dodgers have optioned Carlos Triunfel and recalled Erisbel Arruebarrena to and from Triple-A Albuquerque.
Triunfel had been brought up Saturday when Juan Uribe went on the disabled list. At the time, Arruebarrena was on the Isotopes' DL with right shoulder inflammation and rehabbing with the Dodgers' Arizona Rookie League team. He played rehab games Saturday through Monday, going 4 for 11 with two doubles, two homers and four RBI.
With Albuquerque, Arruebarrena has a .400 on-base percentage and .452 slugging percentage in 95 plate appearances. As a Dodger, he is 5 for 16 with a double, a walk and a .728 OPS. He is a more highly regarded fielder than Triunfel, who hit a comebacker for an out in the only at-bat of his recent recall.