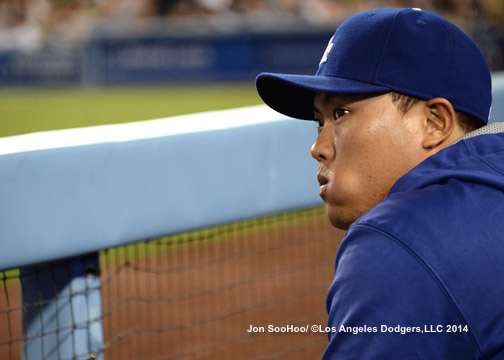 Dodgers at Diamondbacks, 6:40 p.m.
Dee Gordon, 2B
Yasiel Puig, CF
Adrian Gonzalez, 1B
Matt Kemp, RF
Hanley Ramirez, SS
Carl Crawford, LF
Justin Turner, 3B
A.J. Ellis, C
Roberto Hernandez, P
By Jon Weisman
Hyun-Jin Ryu, eligible to come off the disabled list Friday, threw a bullpen session today, has a simulated game planned for Wednesday and could pitch as soon as Sunday, Ken Gurnick of MLB.com reported on Twitter.
Right now, the Dodgers have Clayton Kershaw set up for Wednesday's starting assignment, followed by an off day Thursday. Then, after Dan Haren and Zack Greinke pitch the first two games of the upcoming series at San Diego, Ryu could slot in.
Unlike most SP, Ryu does not throw in the bullpen between starts. Only to assure the staff after injuries.

— Ken Gurnick (@kengurnick) August 26, 2014
Ryu threw in bullpen but not at max effort. Will have a better idea of when he can return after a more intense bullpen session tomorrow.

— Dylan Hernandez (@dylanohernandez) August 26, 2014
If Ryu doesn't start Sunday, then Roberto Hernandez will.
* * *
The National League West standings since June 7: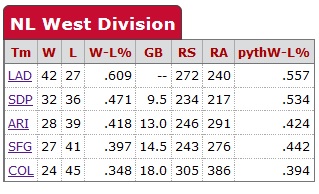 Yep, going back 11 weeks, the Dodgers' opponents on this roadtrip, the Diamondbacks and Padres are tougher opponents than the Giants.
* * *
In other news and notes …
With his next stolen base, Dee Gordon will match the total of the 2005 Dodgers (58). That 2005 squad was led in steals by Jayson Werth and Antonio Perez with 11 each, in a year in which Oscar Robles went 0 for 8 and became MLB's all-time leader in caught stealings without a stolen base.
Bryce Harper experimented with Yasiel Puig's bat. Adam Kilgore of the Washington Post has the backstory.
Daniel Brim of Dodgers Digest analyzed Puig's home run drought.
The Dodgers announced that they have signed two more outfielders on the international amateur market: 24-year-old Yadir Drake out of Matanzas, Cuba (signing scouts: Mike Tosar, Patrick Guerrero, Franklin Taveras) and 16-year-old Federico Giordani from Anzio, Italy (signing scouts: Marco Mazzieri, Bob Engle).
Great Lakes outfielder Joey Curletta made the Midwest League's postseason All-Star team. Curletta has a .336 on-base percentage and .385 slugging percentage this season.
The honors continued for Joc Pederson, who was named the 2014 Pacific Coast League Rookie of the Year.
Corey Seager, Scott Schebler, Darnell Sweeney and Michael Thomas are among the initial selections from the Dodger organization to play in the Arizona Fall League. Dustin Nosler of Dodgers Digest and Eric Stephen of True Blue L.A. discuss the choices.
David Davis has a closer look at the Juan Marichal-John Roseboro incident at Deadspin.