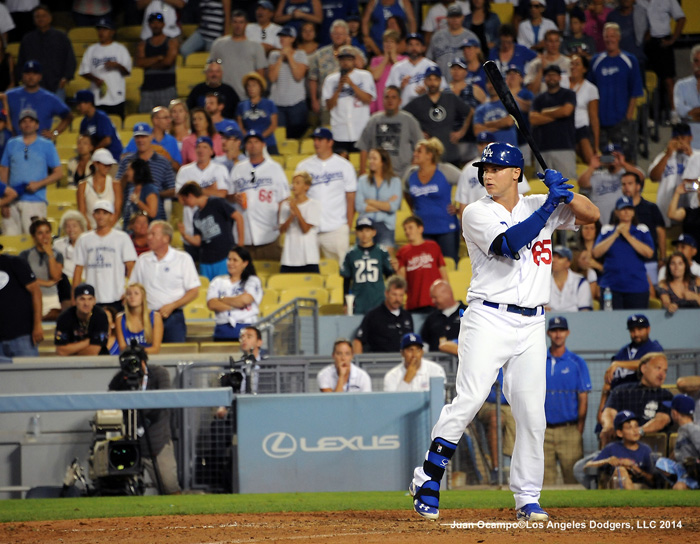 For more Monday photo highlights, visit LA Photog Blog.
Nationals at Dodgers, 7:10 p.m.
Kershaw CCV: Kershawstbusters
Dee Gordon, 2B
Hanley Ramirez, SS
Adrian Gonzalez, 1B
Matt Kemp, RF
Carl Crawford, LF
Juan Uribe, 3B
Joc Pederson, CF
A.J. Ellis, C
Clayton Kershaw, P
By Jon Weisman
After placing Joc Pederson in the starting lineup in center field tonight, Dodger manager Don Mattingly made it clear — in case it wasn't — that slumping Yasiel Puig's job wasn't in jeopardy.
"This time of year, I don't think Yasiel has to prove he can do it," Mattingly said. "We know he can do it … it's more what can we do to get him back."
Puig is in a 2-for-32 struggle with seven walks, and has not homered since July 31 (though he did blast a long out in San Diego that would have been a homer many other places). His only extra-base hit since August 15 was a pop-fly sun double.
Mattingly said that there was a sink-or-swim case to be made for Puig playing through the slump, but in part because this is his first 162-game MLB season, there's also a thought that breaks from the lineup could help.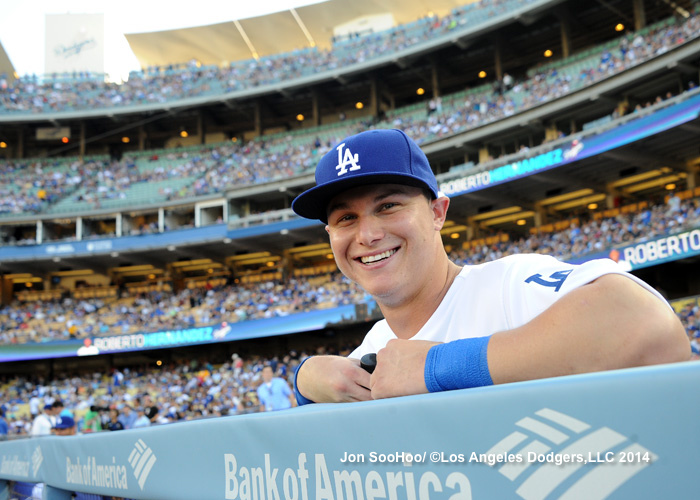 "Yas continues to struggle," Mattingly said. "We're hoping to give him a day here and give him a chance to work it out."
But again, Mattingly tried to stop speculation that the Dodger outfield roles were wide open.
"I do think competition's healthy, as long as it's about winning games," Mattingly said. "I don't want to turn the apple cart over … I want to keep the harmony here. For tonight, this is the best lineup."
Mattingly didn't deny that he was excited to see what Pederson could do and happy to see him get opportunities, but added that those feelings weren't unique to Pederson.
"With all the young guys, I think you're always excited," Mattingly said. "Same as we are about Pedro Baez and Carlos Frias, these guys that come up and throw the ball well."
And yet, he did note that with Pederson, "you could tell right away he had that little swagger, little confidence." He added that there was agreement throughout the organization that Pederson was the best defensive center fielder on the team.
* * *
As expected, three players optioned by the Dodgers in the final week of August — Erisbel Arruebarrena, Frias and Miguel Rojas — have rejoined the team now that the minor-league seasons are over in Albuquerque and Rancho Cucamonga. Frias is slated to start Wednesday's day game/series finale against Washington.