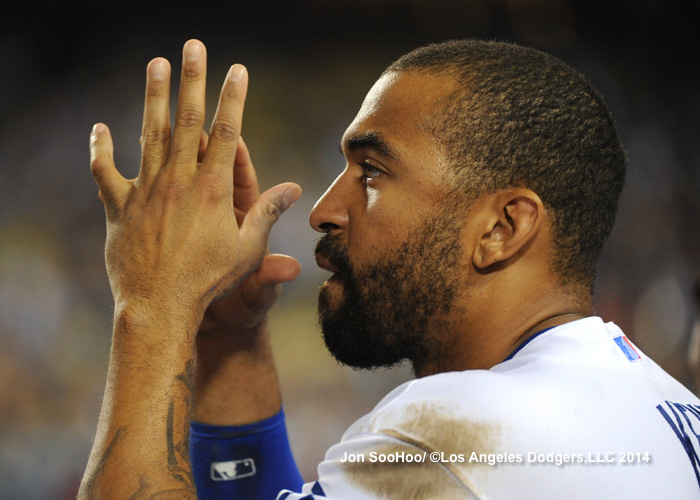 For more Tuesday photo highlights, visit LA Photog Blog.
Nationals at Dodgers, 12:10 p.m.
Dee Gordon, 2B
Yasiel Puig, RF
Adrian Gonzalez, 1B
Hanley Ramirez, SS
Carl Crawford, LF
Justin Turner, 3B
Joc Pederson, CF
Tim Federowicz, C
Carlos Frias, P
By Jon Weisman
Matt Kemp, who leads Dodger outfielders in games played despite not leading at any of the three positions, ends a streak of 40 consecutive games in the starting lineup today.
It's getting harder to remember when there was active concern about Kemp's fragility. During that 40-game run, Kemp has had a .380 on-base percentage and .580 slugging percentage.
He has actually played in 50 consecutive games and started 83 of the Dodgers' past 86 games, since Carl Crawford went on the disabled list May 28, with an .842 OPS in that time.
And Dodger manager Don Mattingly indicated that he is counting on Kemp for the pennant drive.
"I think today for me is an energy day," Mattingly said. "He kind of looked a little heavy-legged in Sunday's day game. He's been going hard for us, and honestly hasn't played this many games in a couple of years. I feel like this is kind of his last chance to get a breather."
Kemp has played 128 games this season, after playing 106 and 73 the previous two seasons.
* * *
Making his debut as a Major-League starter today, Carlos Frias isn't on a specific pitch limit, but Mattingly said that the team's goal is to get five innings from the 24-year-old righty and then evaluate from there.
Mattingly said he doesn't manage differently or make changes more aggressively with the post-September 1 expanded bullpen, and that the extra men mainly function as a way to avoid using primary relievers in a blowout.
At the same time, it's not clear that Pedro Baez qualifies as an "extra" anymore, given his baptism to date (1.84 ERA in 14 2/3 innings), and Yimi Garcia pitched two shutout innings Monday in a game the Dodgers nearly tied in the ninth.
Mattingly also said that Paco Rodriguez had an encouraging bullpen session Tuesday and might be close to a simulated game, and that signs are more encouraging that he's closer to a return. However, though Josh Beckett played catch Tuesday, signs for his return were no more encouraging than they have been.
Tim Federowicz makes his first start for the Dodgers since June 12, and Mattingly confirmed that Federowicz's familiarity catching Frias in Albuquerque this summer played a role in the decision.