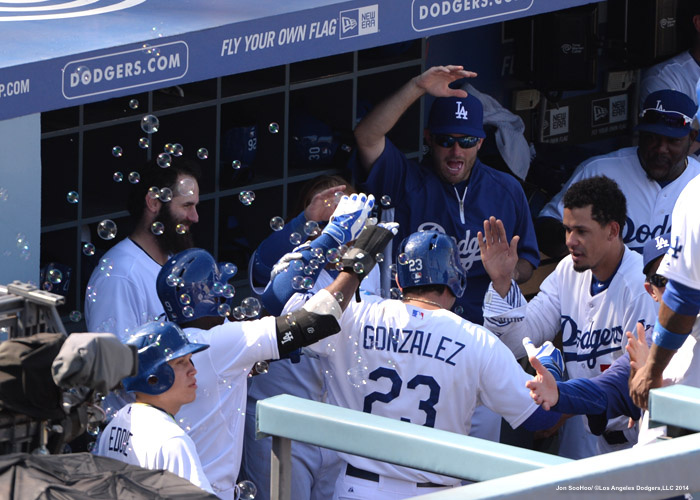 For more photo highlights from Sunday, visit LA Photog Blog.
Padres at Dodgers, 1:10 p.m.
Kershaw CCVI: Kershawffice Space 
Dee Gordon, 2B
Hanley Ramirez, SS
Adrian Gonzalez, 1B
Matt Kemp, RF
Carl Crawford, LF
Yasiel Puig, CF
Justin Turner, 3B
A.J. Ellis, C
Clayton Kershaw, P
By Jon Weisman
I'm starting today's pregame notebook with perhaps the least relevant note, but today before batting practice, Erisbel Arruebarrena and Alex Guerrero were practicing 6-4-3 and 4-6-3 double plays, and they put on a show in my eyes.
Arruebarrena has had some recent injury issues, but he was healthy today and back to showing as quick a release after fielding a grounder as you'll ever see. And I know Guerrero doesn't have as great a reputation at second base, but he looked smooth on the turn to me.
Of course, what do I know? For one thing, there weren't any actual baserunners bearing down on Arruebarrena and Guerrero, but Don Mattingly agreed that they looked good, so there's that.
In other notes:
The Dodgers have definitely benefited from the month that Clayton Kershaw missed, Mattingly said, in terms of being fresh for the stretch run and able to go longer in games.
Zack Greinke had no issues after Sunday's six-inning start, Mattingly said.
Carlos Frias is not expected to start another game for the Dodgers this year, and Mattingly said that Frias' two shutout innings Sunday in relief explains why — there's increasing viability for him to become a more integral part of the bullpen. "First inning he comes in, he pretty much attacks, throws strikes, gets three outs and then he's able to go back out," Mattingly said. "We've had some kind of middle-innings issues of where to go at certain times, so he could be a valuable guy right there where he was at yesterday."
Sixteen of Frias' past 17 innings have been scoreless, with only three hits and one walk in those 16 frames. Only blemish: three runs in his fourth inning of work August 24 vs. the Mets.
Onelki Garcia is healthy and a contender to see MLB game action before this season is over. Garcia, who made his big-league debut on September 11, 2013 but had two offseason surgeries, pitched a shutout inning for Chattanooga in their Southern League semifinal-round victory Sunday.
Injured reliever Paco Rodriguez threw on flat ground and is moving forward again.
Three weeks and 19 games remain in the regular season. The Dodgers' magic number is 17, but in reality, 15 victories would guarantee the title because of the number of games they play against second-place San Francisco. (Thanks to Bob Timmermann for the note.)