[mlbvideo id="36245429″ width="550″ height="308″ /]
Dodgers at Giants, 1:05 p.m.
Kershaw CCVII: Kershawrney Miller
Dee Gordon, 2B
Yasiel Puig, CF
Adrian Gonzalez, 1B
Matt Kemp, RF
Hanley Ramirez, SS
Carl Crawford, LF
Juan Uribe, 3B
A.J. Ellis, C
Clayton Kershaw, P
By Jon Weisman
Although, with a 1.40 ERA, no pitcher in baseball history has been tougher on the Giants than Clayton Kershaw, the Dodgers have lost two of the past three games he has started against them — and the Dodgers are a relatively modest 14-9 in Kershaw starts against San Francisco.
On May 11, Kershaw surrendered a 3-1 seventh-inning lead when he allowed a two-run home run to Brandon Hicks, in a game the Dodgers eventually lost in 10 innings, 7-4.
And 366 days ago, Kershaw took a 2-0 lead into the seventh but gave up four consecutive singles in what became a 3-2 loss. The third run was unearned because of a Scott Van Slyke error.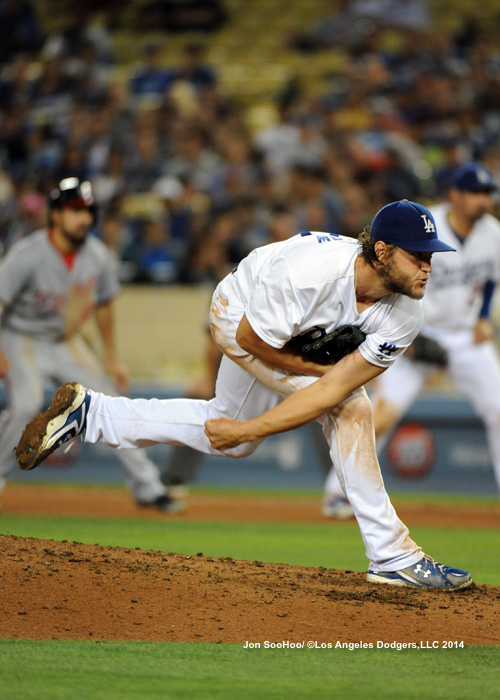 In 23 career starts against San Francisco, here's the breakdown of earned runs allowed by Kershaw:
0: eight times (Dodgers are 8-0.)
1: six times (Dodgers are 5-1.)
≤1: 14 times (Dodgers are 13-1.)
2: seven times (Dodgers are 1-6.)
≤2: 21 times (Dodgers are 14-7.)
3: one time (Dodgers are 0-1.)
4: one time (Dodgers are 0-1.)
Amazingly and horrifyingly, the Dodgers are 1-6 when Kershaw allows the Giants exactly two earned runs.
With a win today, Kershaw would match Orel Hershiser (19-3, .864) for the best winning percentage by a Dodger pitcher in 29 years and the second-best all-time. Hershiser won five consecutive starts from September 13-October 2, 1985 to reach 19-3, but his final appearance of the years was a two-inning tuneup in relief to prepare for the 1985 National League Championship Series. He had a complete-game victory in Game 2, but was also the starting pitcher in the Game 6 loss.
Dodger run support for Kershaw's starts has improved from 3.9 runs per game in 2013 to 4.8 this year.