[mlbvideo id="36675279″ width="550″ height="308″ /]
[mlbvideo id="36675275″ width="550″ height="308″ /]
By Jon Weisman
Scott Van Slyke had four stolen bases in his Major League career before he added two more on Saturday – both of which were mere prelude to his game-winning dash home on a wild pitch to give the Dodgers a 6-5 victory over Colorado in 12 innings.
So while the baserunning bonanza wasn't typical of Van Slyke's contributions to the Dodgers, the sneakiness behind it was. Almost completely under the radar, Van Slyke has put together the top offensive season by a reserve in Los Angeles Dodger history.
Since 1958, among Dodgers with between 200 and 400 plate appearances, Van Slyke has the highest adjusted OPS (158 OPS+) of anyone except Manny Ramirez, Hanley Ramirez and Gary Sheffield, all of whom were starters whose playing time was limited for various reasons. (With a 153 OPS+, Justin Turner is right behind Van Slyke.)
Lower the minimum to 100 plate appearances, and Van Slyke is surpassed by Rick Monday's 1981 season (194 OPS+ in 156 plate appearances, punctuated by his National League Championship Series-winning homer) and Dave Hansen's 1993 (167 OPS+ in 124 plate appearances). But it's hard to argue that any player off the bench has done more offensively for the Dodgers in one season than Van Slyke.
With the caveat of limited playing time, the 6-foot-5 Van Slyke stands tall among the best of his peers.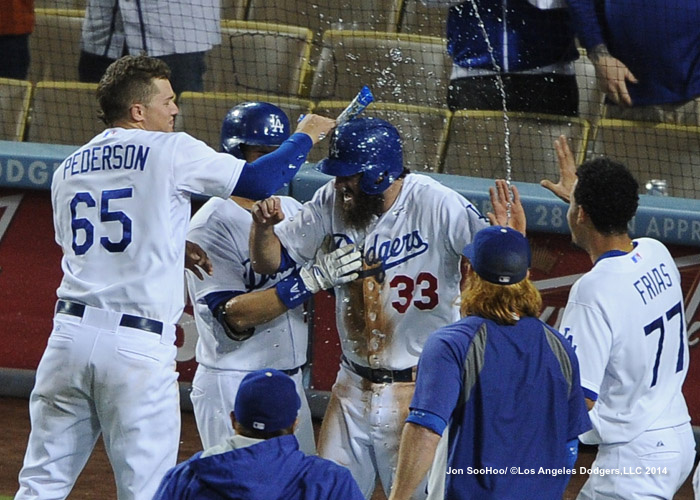 Despite less attention than even Turner has grabbed lately, Van Slyke enters the final day of the regular season with a .387 on-base percentage, .526 slugging percentage and .913 OPS. For players with at least 200 plate appearances, Van Slyke has the No. 6 OPS in the NL, falling right behind Troy Tulowitzki and Michael Cuddyer of Colorado, MVP candidates Andrew McCutchen and Giancarlo Stanton and Arizona slugger Paul Goldschmidt, and the No. 6 weighted on-base average (wOBA).
You have to be absolutely mashing left-handed pitchers to justify platooning with the hot-hitting Carl Crawford, who has a surprising .881 OPS against them this year. That's exactly what Van Slyke has done, with a .415 OBP, .630 slugging and 1.045 OPS. But need a solid at-bat against a righty, and you don't have to despair when Van Slyke and his .354 OBP, .416 slugging and .770 OPS are in the game. For the season, Crawford has a .739 OPS against righties, though of course it's much higher since his slow start.
Don Mattingly recognizes that on many other teams, the 28-year-old Van Slyke, who was designated for assignment in December 2012 and made available to every MLB organization before returning to the Dodger system, would be a full-timer.
"I think he's always been that player, and he hasn't had the opportunity to play (full-time) because of our personnel package," Mattingly said. "So I think we've always had a good feel. He plays all three spots really well; he's got really good instincts.
"I feel like we know his personality pretty well. He's a tough guy to read — he gives you a no-movement, no-energy impression, but we also see the side of the guy that knows how to play and knows when to do certain things."