[mlbvideo id="125609583″ width="550″ height="308″ /]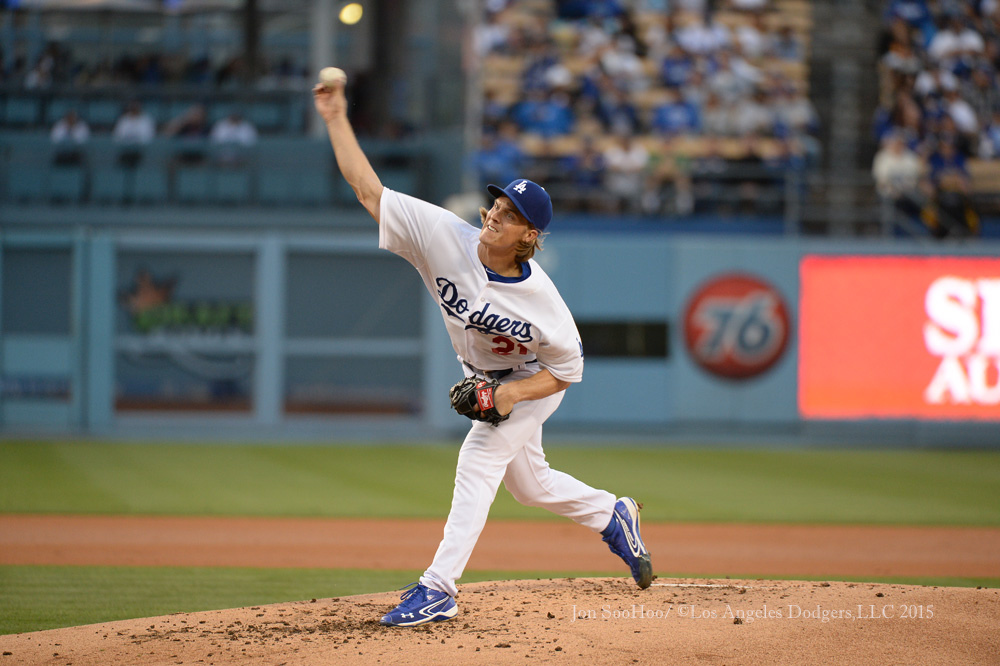 By Jon Weisman
How many fans are even aware that Zack Greinke leads the Major Leagues in ERA? Here's more on Greinke's super season so far, plus other news and notes:
Some interesting tidbits about Greinke fill Pedro Moura's story for the Register, based in no small part on a conversation with A.J. Ellis. Here's a sample:


In combination with his fastball, the changeup and slider have presented an unusual problem to the opposition. Ninety-three percent of Greinke's pitches have been clocked within roughly 5 mph of each other. They're released similarly, travel at unusually similar velocities, and then, approaching the plate, they split off in separate directions.

"It's pretty hard for hitters when the three pitches come in and you don't know which way they're going to go," Ellis said. "Is it going to come straight through? Is it going to run down and in? Is it going down and away?"

Greinke, whose fielding-independent ERA is higher than Clayton Kershaw's, acknowledges he has been lucky on balls in play this season, in contrast to Kershaw and …

… Chris Hatcher, who spoke candidly about his recent struggles, as seen in this story by Eric Stephen of True Blue L.A. As with Moura's article on Greinke, you need to read the entire story on Hatcher, but here's an excerpt:


Hatcher's ERA in May was 3.00 entering Wednesday night (it is 6.00 now), after a 7.56 mark in April. But if there is one glaring difference in the two months, it's in strikeouts. In April Hatcher struck out 15 of 38 batters faced (39.5%), but in May just two of 31 batters he faced have struck out.

We are talking about all of 14⅓ innings on the season here, so take these numbers with a grain of salt. But peripherally Hatcher is having a fine season. Despite his 6.91 ERA, his 17 strikeout, five walks and no home runs allowed give him a 2.23 FIP and a 3.58 xFIP.

But waiting for the numbers to even out isn't a luxury most relief pitchers have, nor does it make giving up actual runs any less annoying.

"I feel like every ball put in play is a hit off me, recently," Hatcher said. "A couple of those were poor pitches. But what's frustrating is when you execute your pitch and somehow the ball still finds the ground or the guy ends up on first."

Update: Here's more analysis from Dustin Nosler of Dodgers Digest.

Julio Urias had his cosmetic eye surgery Thursday, according to J.P. Hoornstra of the Daily News.
"Dodgers pitcher Chad Gaudin recently underwent carpal tunnel release surgery on his right wrist and could be pitching in a month," Ken Gurnick reported on MLB.com earlier this week.
Dodger senior vice president of planning and development Janet Marie Smith has been nominated for executive of the year at the Stadium Business Awards.
The fate of Mets third baseman David Wright resembles that of Don Mattingly during his days with the Yankees, writes Steven Martano of Beyond the Box Score.
Matt Holliday of tonight's Dodger opponents in St. Louis has reached base in 43 consecutive games to start the season, "the longest streak in the National League since 1914" to open a season according to ESPN.com. David Cobb of MLB.com adds that the MLB record to start a season is 53 by Derek Jeter.