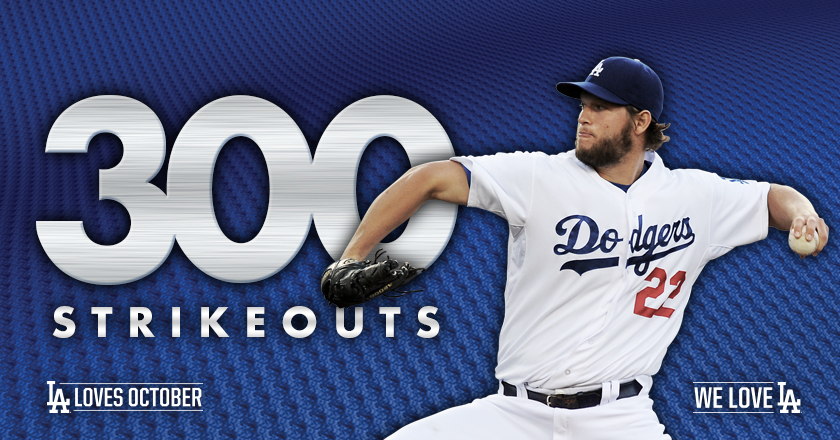 By Jon Weisman
He's done it. Clayton Kershaw has become the first pitcher since Randy Johnson and Curt Schilling in 2002 to strike out at least 300 batters in a season. Kershaw fanned Melvin Upton, Jr. in the top of the third inning to reach the milestone.
It took Kershaw 37 pitches to get the six strikeouts he needed today. He has the most strikeouts by a Dodger pitcher since Sandy Koufax had 317 in 1966. Kershaw and Zack Greinke are the Dodgers' first 300-200 strikeout duo since Koufax and Don Drysdale in 1965.
Public Enemy No. 300. #Kershaw300 pic.twitter.com/C9BVDnc2Z5

— Los Angeles Dodgers (@Dodgers) October 4, 2015
With the first out of the fourth inning, Kershaw also won the 2015 MLB innings pitched title.
Kershaw wrapped up his day once he reached his 60-pitch limit in the fourth inning, finishing with seven strikeouts in 3 2/3 innings of two-hit, no-walk ball. He has 301 for the season, 1,746 for his career, and needs 254 next year to become the fourth pitcher in MLB history to strike out 2,000 batters before turning 29, after Sam McDowell, Walter Johnson and Bert Blyleven.
As a pitching staff, the 2015 Dodgers have the fourth-highest strikeout total in National League history. The Chicago Cubs broke the NL record earlier this week.