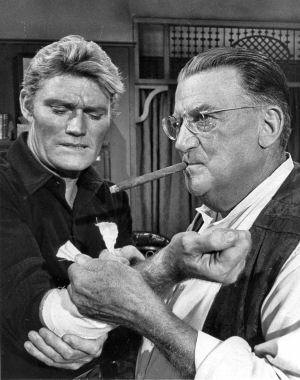 By Jon Weisman
Fifty years ago today, in an episode that aired October 10, 1965, — yes, just hours after the Dodgers won Game 4 of the World Series — Dodger owner Walter O'Malley played a frontier doctor in the NBC TV western "Branded," opposite series star Chuck Connors.
Connors was a former Brooklyn farmhand who had one at-bat with Brooklyn in 1949 and half a season with the Cubs in 1951, before embarking upon his acting career.
O'Malley was recruited to do the episode by Connors, after the Dodger chief asked him to entertain guests earlier that year, according to Times columnist Sid Ziff, who wrote about the filming of the episode in August 1965:
… O'Malley showed up on schedule despite a heavy cold. He waited in Connors' dressing room for his call. He had a copy of his script and occasionally glanced at his lines.

In the scene, Jason McCord, who is Connors, is talking to the sheriff while O'Malley dresses his wounded flipper. … Doc O'Malley shakes his head and the ashes off his cigar on to the wounded arm, and says questioningly: "That's a bad wound. Almost a severed tendon. Don't figure to use that arm for at least two weeks."

During the filming, O'Malley thumps on the bandage for emphasis hard enough to cause a hemmorhage. …

… You always have to do a lot of waiting around a movie set. O'Malley recalled that the first time he saw Connors, he was a rookie and he'd reported to the Dodgers with 13 pieces of luggage.

"I knew then he was going places," Walter punned.