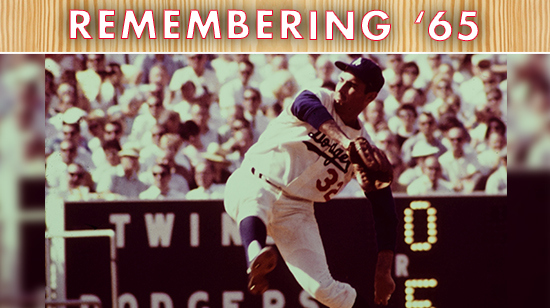 By Jon Weisman
Pretty much the only drama in Game 5 of the 1965 World Series was whether Sandy Koufax would throw another perfect game or no-hitter.
Coming back from a Game 2 defeat, Koufax retired the first 12 Twins he faced before Harmon Killebrew hit a ball that popped out of a running Willie Davis' glove, on the way to a breezy 7-0 victory on October 11, 1965 that put the Dodgers one win away from the championship.
Killebrew's play was ruled a hit, one of four singles off Koufax, who walked one and struck out 10 in his shutout. With the Dodgers turning three double plays behind him, Koufax faced two batters over the minimum.
As they had in Game 4, the Dodgers got off to a fast start and never trailed, scoring twice in the first and leading 5-0 after four innings. Davis stole three bases, tying the World Series record set by Honus Wagner in 1909, and Maury Wills also tied a Series record with four hits.
Minnesota was held to two runs in 27 innings at Dodger Stadium, and with Koufax pitching as he was, seemed in jeopardy of becoming the World Series' second no-hit victim, after the 1956 Dodgers against Don Larsen. Killebrew's drive into the Los Angeles sunshine changed all that, wrote Frank Finch of the Times:
Davis didn't pick up the ball out of the polychromatic background until it was about halfway to him, and although he caught it about a foot off the ground with a headlong lunge and umpire Ed Hurley called Killebrew out, the impact of Davis' elbows striking the turf jarred the ball from his insecure grasp.

The fans groaned when the "hit" sign was flashed, and it wasn't until two innings later, when Joe Nossek won in a photo-finish on a deep grounder to Wills, that the official scorers were off the hook.
The lefty ace would later say he began to tire in the eighth inning, when he walked Bob Allison, setting up what Finch called "the prettiest double play you ever saw," with Wills fielding a Don Mincher smash behind second base and flipping backhanded to Dick Tracewski. Koufax also gave up a bloop single to Frank Quilici in the ninth, but not until after that did Koufax allow a clean line-drive single, when Sandy Valdespino followed with a shot to right.
Koufax regrouped with a Zoilo Versalles strikeout, and then Nossek lined to Wills for a game-ending double play and the Dodgers' third straight victory — but also, their last home game of the year in a World Series whose road teams were winless.
"Going back (to Minnesota) could possibly change the picture again," Wills said. "We've got to be aware of this and not think we've got it locked up. … It's up to us to maintain our momentum."