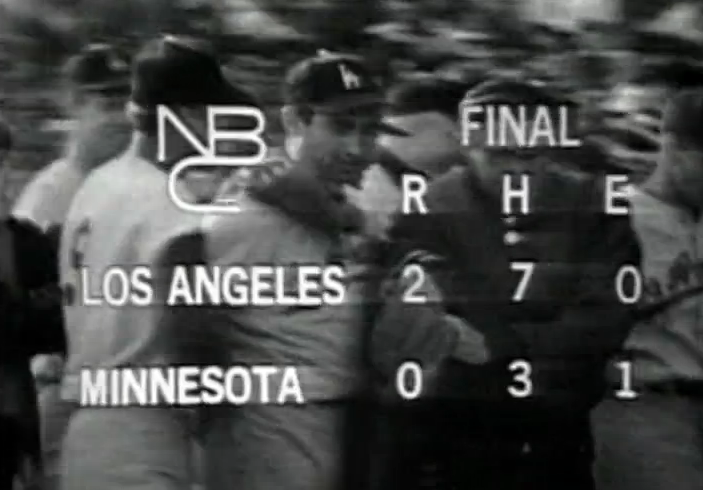 By Jon Weisman
Koufax. Johnson. Championship.
This is the last tale from "Remembering '65," and the one you know the best.
Fifty years ago today, working on two days' rest in Minnesota, backed by Sweet Lou Johnson's fourth-inning home run, Sandy Koufax pitched a 2-0 shutout over the Twins to give the Dodgers the 1965 World Series title, their fourth in the past 11 seasons.
"Alston Leans to Left and Koufax Proves He's Right," read the headline in the Times, regarding Dodger manager Walter Alston's decision to start Koufax over Don Drysdale. But that result was anything but a given as the game unfolded.

"I didn't have a curveball at all," Koufax said. "When I threw it I couldn't get it over. And those first few innings I really didn't know how long I was going to last."
[mlbvideo id="20254967″ width="550″ height="308″ /]
Here's what Frank Finch wrote in his story:
In a shaky first inning Koufax walked Tony Oliva and Harmon Killebrew with two out, and by then Don Drysdale, whose turn it was to start, hurriedly heated up in the bullpen.

Don sat down when Koufax struck out Earl Battey, but began throwing again in the third after Zoilo Versalles got his eighth hit with one out.

Zoilo stole second base, but umpire Ed Hurley ruled that the batter, Joe Nossek, interfered with catcher John Roseboro, and Versalles had to return to first base.
Meanwhile, Twins starter Jim Kaat — also working on two days' rest — pitched out of a couple of early jams himself. Then Johnson came up to start the fourth inning. From Finch:
Leading off the fourth was Johnson, a 31-year-old retread cut loose by four major league clubs and given a last chance only because Tommy Davis broke his ankle May 1.

Lou, the club cutup, tied into a fastball and sent it soaring toward left field. It was curving foul when it struck high up on the foul pole. As the Mudcat (Grant) did the day before, Lou clapped his hands several times as he circled the bases.
[mlbvideo id="31230577″ width="550″ height="308″ /]
"I guess I just psyched Kaat," Johnson said. "First he threw me a change-up which I swung at and I figured he would come back with the fast one. I really hoped so and sure was ready. The only question in my my mind after I hit the ball was whether it would stay in, the way it was hooking.
"I want to cry for joy, but the tears won't come out."
The next two batters, Ron Fairly and Wes Parker, doubled and singled, and Koufax had his two runs. Now they just had to hold up.
With one out in the bottom of the fifth, Frank Quilici doubled to left field off Koufax. Rich Rollins walked on a 3-2 pitch, putting the tying run at first base.
Dodger team historian Mark Langill summed up what happened next in the May issue of Dodger Insider magazine:
With Koufax on the ropes, shortstop Zoilo Versalles, the 1965 American League MVP, tried the knockout punch, whistling a sharp grounder toward left field.

Gilliam reached to his right, stabbed the ball and made a 360-degree turn. He calmly trotted to third base, forcing Quilici for the second out.

"A younger player might've tried to throw to second base to start a double play," said first baseman Wes Parker. "A wild throw in that situation might cost us the game. After Gilliam got the force, Sandy had two out, and there still were runners on first and second."

Said Koufax: "Everybody on the club made great plays, but if that one had gone through the Twins were sure to get one run and might have tied it up.
Instead, Versalles was the first of 12 consecutive batters Koufax would retire, until Harmon Killebrew singled with one out in the bottom of the night. Minnesota would have two more chances to tie the game. For the fourth time, Drysdale began throwing in the bullpen. Here's Finch:
But the mighty Koufax was more than equal to the challenge. Battey swung feebly at the first two serves and then looked at a pitch right down the pipe.

Next up was Bob Allison, whose two-run homer decided Wednesday's game and kept the Twins alive. Allison fouled off the first pitch, then took two balls. Koufax's fastball was smoking now, and Allison swung and missed the next two pitches.

Within moments, corks were popping and champagne was flowing in the Dodger clubhouse.
[mlbvideo id="31230579″ width="550″ height="308″ /]
That final strikeout was Koufax's 10th, making him the first pitcher to fan at least 10 in three World Series games. In the Fall Classic, he pitched 24 innings and allowed one earned run, striking out 29.
"I seemed to get my second wind," Koufax said. "In the last three (innings) the fastball seemed to move better and I felt I got stronger."
Jim Murray crowned Koufax's brilliance.
If you want a conductor, try Leonard Bernstein. Heifetz will do on the violin. If you want to dance, see if Fred Astaire is busy. Want someone to sing nice, just hand the music to Andy Williams.

But if you want to win a pennant or a World Series, just hand the ball to Sanford Koufax. He gave a performance here Thursday afternoon that should go to Carnegie Hall.
And Finch, the beat writer who chronicled the entire season of the 1965 Los Angeles Dodgers, had the last words.
"Everybody laughed when they game to play," Finch said in his final sentence of his final game story of the year, "but not for long."
[mlbvideo id="20005809″ width="550″ height="308″ /]
[mlbvideo id="316004483″ width="550″ height="308″ /]