By Jon Weisman
Dave Roberts first came to the Dodgers as a nobody. On December 22, 2001, the Dodgers traded two single-A minor-leaguers, Christian Bridenbaugh and Nial Hughes, to Cleveland for an outfielder who had 40 career Major League hits at age 29.
Neither Bridenbaugh nor Hughes would play at any level in any of MLB's 30 organizations again. But Roberts, he wouldn't easily be forgotten.
Sliding into center field between Brian Jordan and Shawn Green, Roberts became the Dodgers' primary center fielder, an important part of the 2002 Dodgers and a fan favorite, fulfilling the role of speedy leadoff man with plate discipline and the range to cover center field. In his first season as a Dodger, the Okinawa, Japan native and UCLA grad had a .353 on-base percentage and 45 stolen bases in 55 attempts. He was a classic find off the scrap heap.
In only 2 1/2 years as a Dodger, Roberts would steal 118 bases, enough to move him into the top 20 in Dodger history, while maintaining an OBP in the .330s and making save-saving catches like this one atop Tal's Hill in Houston, where he "took it away from a diner on the 9 Amigos Patio."
[mlbvideo id="531249183″ width="550″ height="308″ /]
By the time he was traded, on July 31, 2004, he had played 302 games for the Dodgers — more than five times as many as he would play with the Red Sox, though of course it was with Boston that he went from a nice item off the discount rack to legend, stealing the base that pivoted the entire history of that franchise.  That trade happened because the Dodgers had acquired a center fielder in Steve Finley who would create an unforgettable moment of his own with a division-clinching grand slam, his 13th homer in two months.
On a team that had Finley, Jayson Werth and Milton Bradley, Roberts had become dispensable. Eleven years later, the Dodgers have decided he is anything but.
Now 43, the Dodgers have hired Roberts to be their 10th manager in Los Angeles, their first minority manager, their youngest since Glenn Hoffman was interim manager in 1998 and their youngest to have the job free and clear since Walter Alston wrote out his first lineup card more than 71 years ago.
"We're extremely excited to bring Dave Roberts on board as the next manager of the Dodgers," Dodger president of baseball operations Andrew Friedman said. "We could not have been more impressed with him through this process. His energy is infectious, and he has the rare ability to make a genuine connection with every person he comes across. He has developed strong leadership qualities and accumulated a breadth of baseball experience over his career as both a player and coach.
"He is a 'baseball man' and 'people person' in the truest sense of those words. We feel fully confident that he will effectively lead our team in pursuit of its ultimate goal — bringing a world championship back to the city of Los Angeles."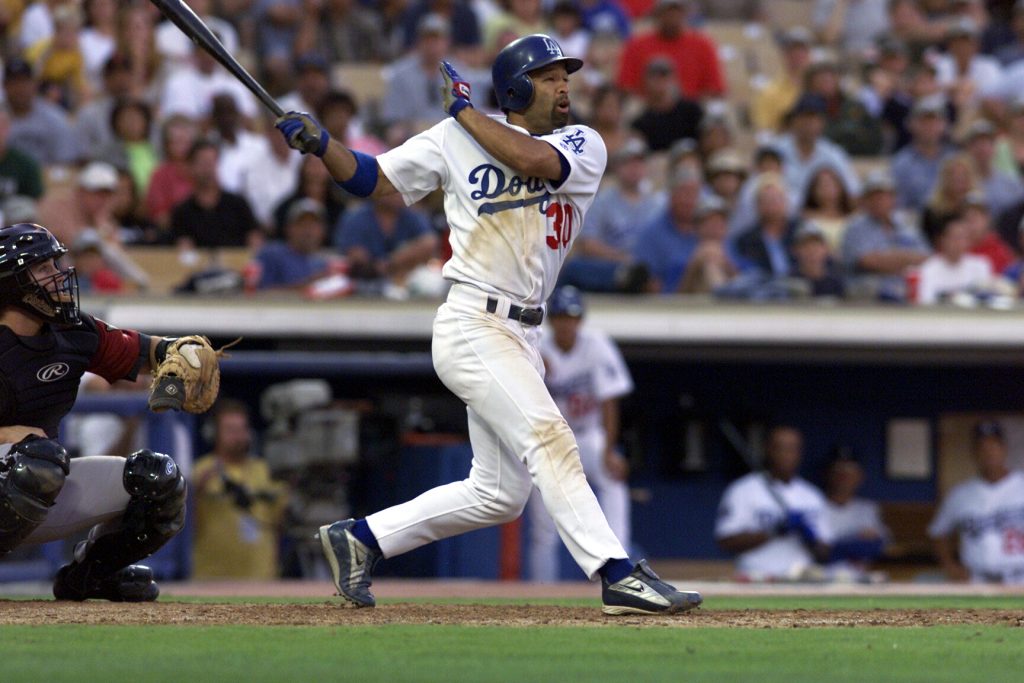 Roberts will be introduced as Dodger manager at a news conference December 1 at Dodger Stadium.
"It's hard for me to put into words what it means to be named manager of the Los Angeles Dodgers," Roberts said. "This is truly the opportunity of a lifetime. The Dodgers are the groundbreaking franchise of Jackie Robinson, Roy Campanella, Sandy Koufax, Maury Wills, Fernando Valenzuela and Hideo Nomo. When I put on this uniform as a player, I understood the special responsibility to honor those that played before me as well as the amazing bond between the Dodgers and their fans. I feel that I have now come full circle in my career and there is plenty of unfinished business left in L.A."
Roberts began the new phase of his career with the Padres' baseball operations staff in 2010, the same year he had to confront Hodgkin's lymphoma. The following season, he became a first-base coach, with responsibilities that included instruction in the outfield, basestealing and bunting (Roberts was deeply influenced as a Dodger by Maury Wills) , before moving up to bench coach for San Diego in 2013. He served one game as interim manager for San Diego in between Bud Black and Pat Murphy's tenure.
[mlbvideo id="13181085″ width="550″ height="308″ /]
The Dodgers, in case you've forgotten, open the 2016 season at San Diego and also host the Red Sox at Dodger Stadium on August 5-7.