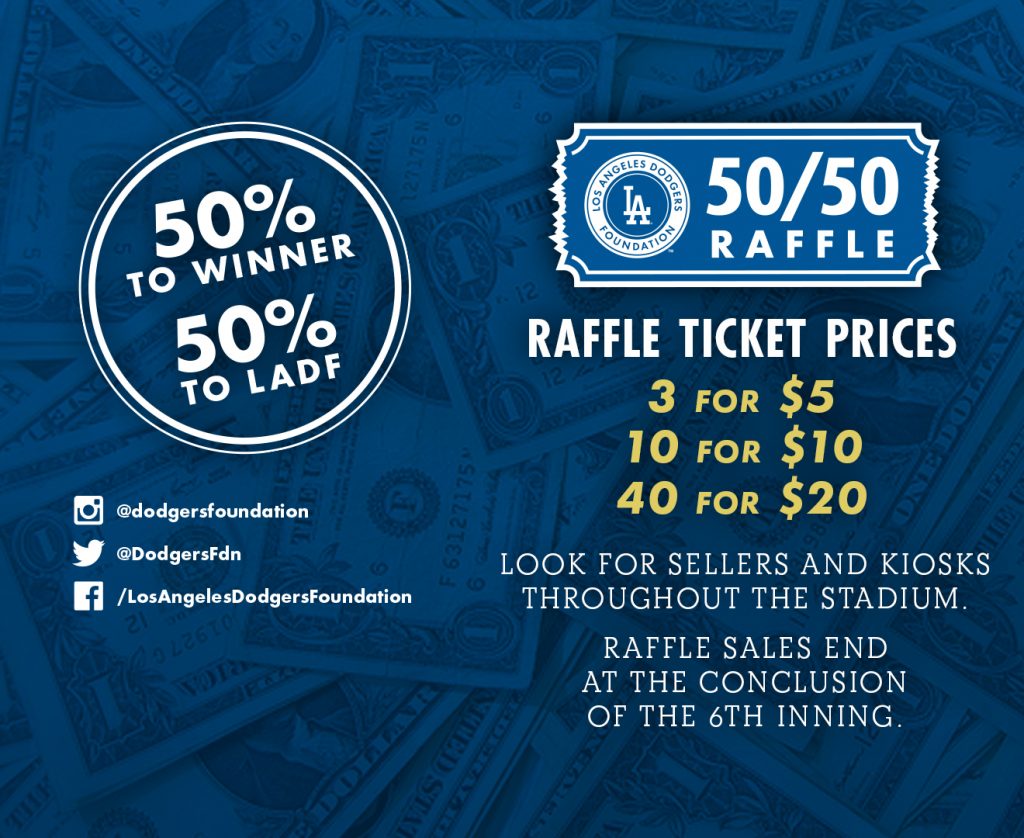 By Erin Edwards
Dodger fans now have the chance to win big by participating in the Los Angeles Dodgers Foundation's inaugural 50/50 Raffle.
This charitable in-game raffle will be launched at Dodger Stadium tonight, continuing here all season, and the proceeds will benefit LADF's programs and giving to local youth organizations.
During every Dodger home game, tickets will be sold by staff in gold shirts throughout Dodger Stadium. The winning raffle number will be selected during the seventh inning to determine the 50/50 Raffle jackpot winner. The winning raffle number will be displayed in stadium during the eighth inning.
For each and every raffle, half of the 50/50 Raffle jackpot will go to the selected winner, and the other half will go to LADF for its programs and to support youth organizations across Los Angeles.
Raffle tickets will be sold for cash only at three price points: three for $5, 10 for $10 and 40 for $20. Fans can visit kiosks in the Left Field Plaza, Loge Level (behind sections 103/105) and Reserve Level (section 10). Sellers will also be roving throughout the concourse and Top Deck, Reserve, Club, Loge, Field and Pavilion seating areas.
"The 50/50 Raffle provides a consistent way for our fans to contribute to our foundation, while also having a chance to win some money," said LADF executive director Nichol Whiteman. "We are thrilled to add to the Dodgers' existing top-notch, in-game presentation to further raise awareness of our work with such a captive audience.
"The raffle will provide increased support for our cornerstone programs, increase our grants to community organizations and provide some in-stadium fun for sure. We will continue to showcase where all the money goes and how it benefits the various organizations and youth we serve directly."
Funds raised by the LADF benefit a variety of worthwhile programs, including the Dodgers RBI (Reviving Baseball In Inner Cities) program that enables more than 6,000 youth to "play ball," vision screenings and eyeglasses for children at local schools, and funding for after-school programs promoting literacy for at-risk students.
Come on out to support the Dodgers and buy a 50/50 ticket so LADF can expand its good works. The winning ticket will be posted on the LADF Twitter account (@Dodgersfdn) at the end of each game. For more information, please visit dodgers.com/5050raffle.