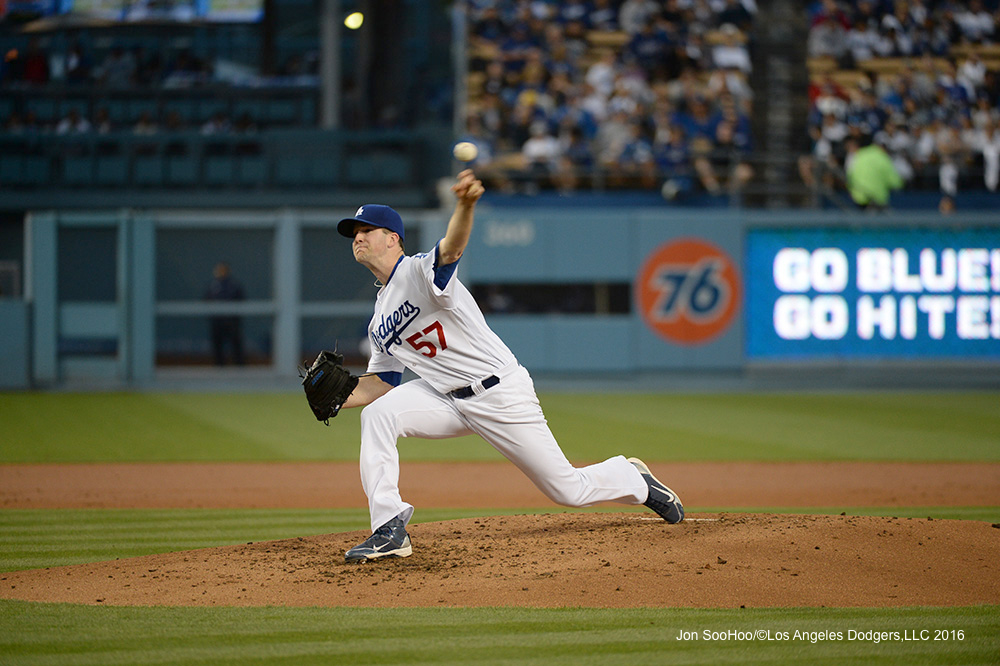 By Jon Weisman
You might be aware that Alex Wood's home-road splits as a Dodger are poles apart, but we're not talking your typical North and South Poles. We're talking the North Pole on Earth and the South Pole on Neptune.
How so?
No starting pitcher in Los Angeles Dodger history has a lower home ERA than Wood's 2.00 in eight starts.
One starting pitcher* in Los Angeles Dodger history has a higher road ERA than Wood's 6.79 ERA in 11 starts.
If you include Wood's time with Atlanta, he has a career 1.78 ERA at Dodger Stadium — a full five runs better than what he's done on the road as a Dodger.
So yeah, Wood comes across as a wee bit happy to pitch at Chavez Ravine (if also a wee bit inconsistent overall). The formula gets put to the test in tonight's 5 p.m. game against St. Louis. For the second time in his Dodger career, the 25-year-old Wood is making a second consecutive start at home.
Coming off Tuesday's outing against the Mets, when he allowed one earned run in 6 2/3 innings while striking out nine, Wood has the chance to pitch back-to-back quality starts as a Dodger for the first time since … the other time he had two consecutive starts at Dodger Stadium, September 16 and 22 against the Rockies and Diamondbacks.
In all, Wood is eight for eight in quality starts as a Dodger at Dodger Stadium. Only one pitcher in Dodger Stadium history has started his career with a better streak — Hyun-Jin Ryu, whose first 11 appearances at Dodger Stadium were quality starts.
(It won't surprise you to learn that Clayton Kershaw has the all-time best streak of Dodger Stadium quality starts, with 22.)
But Wood has pitched even better in Los Angeles than the quality-start stat suggests. After allowing three runs in 6 1/3 innings in his home-whites debut, Wood hasn't allowed more than two earned runs at Dodger Stadium since. In all three starts here this year, he has allowed exactly one earned run.
One of these nights, maybe even tonight, it will come to an end. But for now, there shouldn't be many pitchers the hometown crowd should be happier to see at Dodger Stadium than Wood.
*It's Charlie Haeger, with a 7.12 ERA in seven road games (five starts) as a Dodger. Five starts was the minimum used for this post.