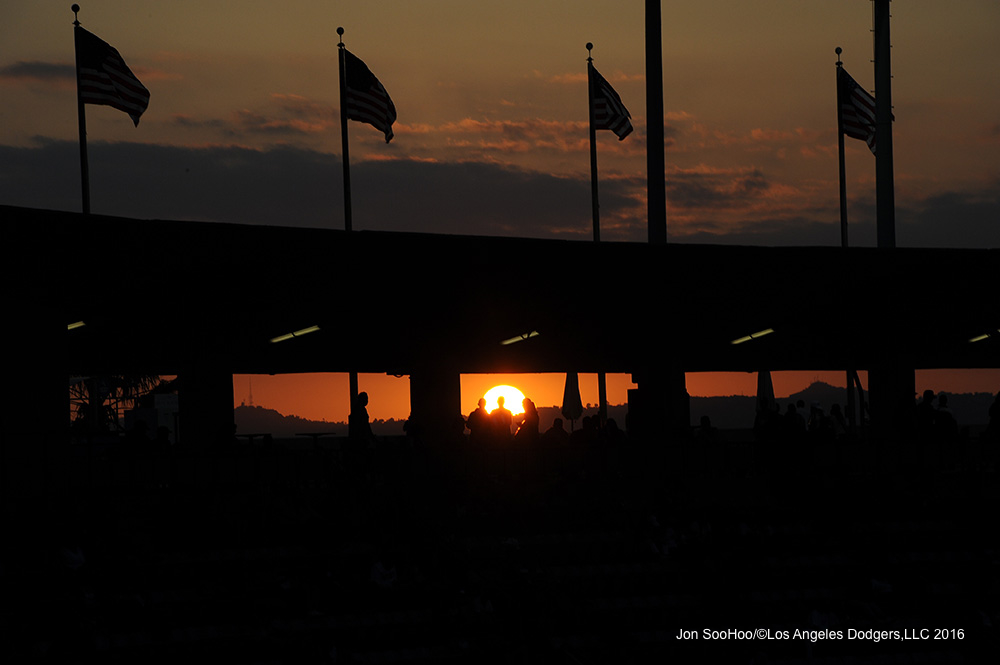 Angels at Dodgers, 7:10 p.m.
Chase Utley, 2B
Corey Seager, SS
Howie Kendrick, 3B
Adrian Gonzalez, 1B
Yasmani Grandal, C
Joc Pederson, CF
Trayce Thompson, RF
Carl Crawford, LF
Kenta Maeda, P
By Jon Weisman
Taking the mound tonight against the Dodgers is a pitcher with a 9.12 ERA, which might be enough to make you want to dial 9.11 if you're an Angels fan.
But Matt Shoemaker is also a pitcher who had a 3.04 ERA, 1.07 WHIP and 8.2 strikeouts per nine innings as recently as 2014. And even last month, he pitched back-to-back games — both on the road — in which he allowed two runs in 12 innings.
It's almost as if there are two Shoes, and you don't know which the Angels will put on tonight when they meet the Dodgers in the regular-season kickoff of the Freeway Series.
"I think that you prepare for the one with the good stuff," Dave Roberts said. "He has a certain mix, and I think that even Mike Leake yesterday (for the Cardinals) was struggling, and he came in there and had a good game plan against us and executed and kept us at bay. So I think for Shoemaker, we're expecting him to throw the ball well. … I think (the ERA) registers and you know what guys are struggling and what guys are throwing well, but when you're in the batter's box, I don't think that any hitter cares about a pitcher's ERA. You try to get a good pitch and put a good swing on it."
As it happens, Shoemaker's last game was May 11 against the Dodgers' most recent opponent, St. Louis. In his first start after a brief attempt at a tune-up May 6 in Triple-A, Shoemaker pitched a perfect first inning, but allowed four runs in the second.
"It happened quick," Angels manager Mike Scioscia said after the game. "He settled down after that. He definitely showed that his stuff was there, but he couldn't combine it like he usually can."
Shoemaker will be followed Tuesday at Dodger Stadium by another Angels pitcher trying to recapture past glory, Jered Weaver, who has a 6.10 ERA.
The Dodgers will counter tonight with Kenta Maeda and a starting lineup that will be without two regulars, Justin Turner and Yasiel Puig. Both, Roberts said, are getting a simple day off, with the Dodgers at the halfway point of a stretch of 20 games in 20 days. They went 6-4 in the first 10, against three playoff teams from 2015.
"It just made sense after last night just to get his mind back," Roberts said. "I think we're headed in the right direction with Yasiel, but I think a day will help him and also his body."
After going 3 for 5 with a home run Friday, Puig went 0 for 6 over the weekend, and slammed his bat in the dugout after Randal Grichuk hauled in his 102-mph, 391-foot drive to center in the fourth inning Sunday.
[mlbvideo id="701811183″ width="550″ height="308″ /]
"There's a little reaction after certain at-bats when he gets a little more emotional than he has been," Roberts said. "That is a sign, as a player is starting to get frustrated, where for me, just to kind of take him out of that situation and give him a day to catch his breath and get him back in there, because in the beginning part of the season, he hasn't shown too much emotion like that. So yeah, he's frustrated."
Roberts was asked how much of his average day was spent determining playing time for his 25-man roster.
"A lot of it," he replied. "Before the game, there's a lot of conversations with players, and also looking at the schedule and potential pitching matchups and trying to have things make sense. Every decision I make, I like to think it makes sense, and as a player, you want the manager or the coach to do things that make sense.
"So whether it be lineup construction or when guys play and when guys don't play, a lot of it starts with the conversation with players and letting them know what my thought is going into these decisions."