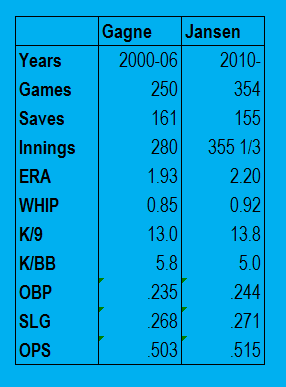 By Jon Weisman
Kenley Jansen has saved 13 of the Dodgers' 38 games this season, putting him on pace for 55, which would tie the franchise single-season record set by Eric Gagne in 2003.
Jansen is also closing in on Gagne's all-time Dodger saves record, with Saturday's appearance leaving him six shy.
The 28-year-old Jansen on Saturday relieved in the 354th game of his MLB career, matching the number of relief appearances Gagne made in his career (including stints with Milwaukee, Texas and Boston).
As familiar as Jansen has become to Dodger fans, it might surprise some that his relief stats virtually match those of Gagne with Los Angeles, with 75 1/3 more innings. Gagne retains a slight edge in baserunners allowed, while Jansen has the strikeout edge.
Ultimately, the stats for the two are very close, except that Jansen has now been doing it longer out of the pen.  Before his sudden emergence as a closer under first-year manager Jim Tracy, Gagne started 48 games for the Dodgers from 1999-2001.
This season, Jansen has a 0.59 ERA, basically half of Gagne's 1.20 ERA in 2003, the year he won the National League Cy Young Award.